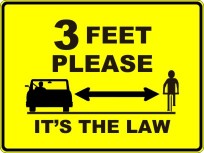 Maryland's MVA has produced and distributed this bicycle safety public service announcement (PSA) to communicate the three-foot safety rule for motorists as well as bicyclists. The PSA emphasizes the need for everyone to share the roads.
While some might question its effectiveness, having a 3' passing law is more about education and legal protection for bicyclists than actual enforcement out on the road. Not only is this a significant moral victory for Delaware bicyclists, it also adds another legal tool should an incident occur. More on the 3-Foot Law in Delaware can be found HERE.
Kudos to the state of Maryland for taking this initiative. While education is a primary concern of advocates, and one of the "5 Es" in terms of bicycle-friendly communities, distracted driving remains a top danger that goes largely unenforced. Until this is addressed on the same level as DUI – where it belongs – laws like this remain negligible in terms of increasing modeshare.
Related: