Jim Westhoff, DelDOT Spokesman, and friend to bicycling in Delaware, is changing jobs.
A letter from Jim Westhoff –
I'm writing to you today to let you know my focus within DelDOT public relations is shifting away from our agency's bicycling initiatives to other projects, and that Dawn Hopkins, DelDOT's Intergovernmental Policy Advisor, will be your new point of contact for bicycle-related projects and activities at DelDOT Public Relations.
One of my roles over the past several years has been to help bring public attention to the needs of the state's bicycling community.  Now that the First State Trails and Pathways Initiative has been launched, its immediate funding is secure and a PR agency has been selected to support a state-wide bicycle safety educational education campaign, I have been asked to direct my attention to other projects at DelDOT.
I have enjoyed working with and getting to know our state's bicycling community and it has been immensely rewarding to be a small part of making our state safer and more bike friendly.
Sincerely,  -Jim
To illustrate just how much of a friend Jim has been to the cycling community in Delaware, below is an email exchange from a cyclist earlier this month.
Jim responded so quickly to a hazardous road condition, it may have literally set a record:
Excerpt from a Sept. 5 appeal forwarded to Jim: The second home on the right, after Cambridge Drive, has allowed jungle-like undergrowth to grow up on three sides of the property. The side paralleling 896 has virtually filled the bike lane, forcing riders to move to their left into the driving lane. This is of no little concern to the undersigned. As a bicycle commuter for the past 52 years, I have to execute this dangerous maneuver every working day, as I ride into the University.
Email of thanks sent to Jim on Sept. 6: My wife just informed me that Stein's Tree Service is clearing out the Route 896 bike lane jungle as I write this. Thanks, so much, for your inestimable help! This has been a festering problem that has been tormenting me for months! By the time the location at issue has been reached, going downhill at considerable speed going into Newark is not the time to assess" should I move over into the travel lane?" or "should I slow to a crawl to determine what's coming behind me?" Most riders, myself included, will choose the former option, and let 'er rip! You've just greatly enhanced my bicycling/commuting pleasure.
When I asked Jim about his proudest accomplishment while working on cycling issues, in his typical lighthearted and self-deprecating manner, Jim said his proudest moment was when he inserted a Top 10 List into the Governor's speech.
"For the 2009 Delaware Bicycle Summit, I helped prepare some remarks for Governor Markell," Jim said. "It must have been late in the evening when I wrote them because at the end of the speech, I inserted The Top 10 Reasons Why It's Great to Bicycle in Delaware, I couldn't believe it when he actually read the list, and even stopped halfway through to publicly credit me for the list."
For those of you who didn't attend, or need a refresher, here are
The Top 10 Reasons Why It's Great to Bicycle in Delaware:
10. You can truthfully call your friends out West and say, "I rode the entire width of the state and back … this morning."
9. Hills and mountains are nice, but they block the view.
8. The governor wears a jersey advertising the local brewery.
7. People in other states eat energy bars … we have scrapple.
6. Punkin Chunkin. It has nothing to do with cycling, but we love Punkin Chunkin.
5. On windy days, on Route 1 at the beach, we can draft behind overweight lawyers from D.C.
4. King's Ice Cream has two handy locations.
3. In Delaware, all politics end when we get on our bikes. Well, actually, the Republicans always seem to have nicer bikes.
2. When riding on hot summer days, in Kent and Sussex counties, every few miles, we have perfectly aimed spray irrigation systems.
And the number one reason why it's great to bicycle in Delaware;
1.     Chickens are very easy to outrun
Here is some biographical information about Jim:
First moved to Delaware in 1987, when he was stationed here for the Coast Guard.
Started racing road bikes in 1988, training by riding up and down Route 1, from Dewey to Ocean City.
Graduate of University of Virginia
Former newspaper reporter, worked in Plattsburgh, New York; Winchester, Virginia; and his last newspaper job was at the Cape Gazette in Lewes.
Has been at DelDOT PR for about five years.
Lives in Greenwood, with my wife Cindy, and their two children; 15-year-old son Robbie, our 5-year-old daughter Delaney, and our Great Dane, Regan, all of whom Jim has spoiled rotten.
Jim's presence at DelDOT PR will surely be missed, but we wish him all the best in his new position.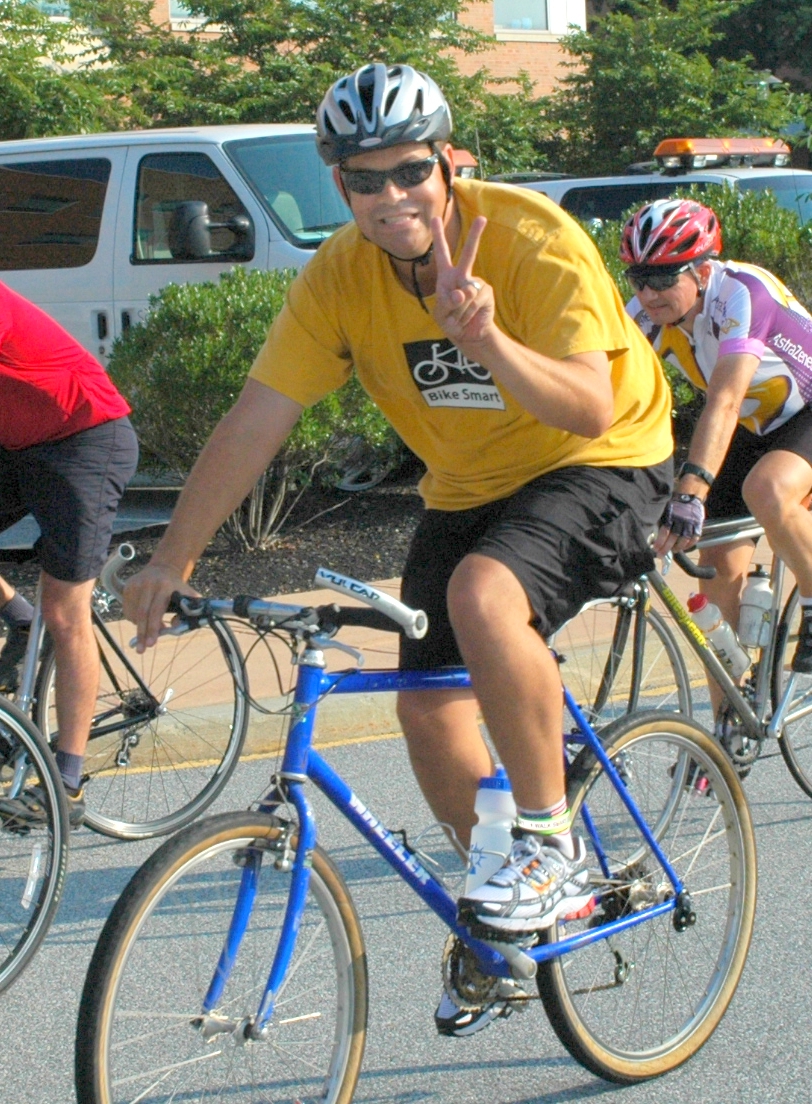 The above photo was taken in 2010, at an event publicizing National Bicycle to Work Day. Jim organized this event, where Governor Markell, and Senator Carper meet an Astra Zeneca employee at her home and ride with her to work.