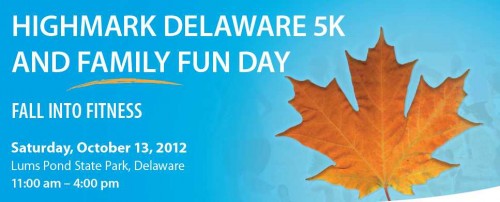 Join Bike Delaware on Saturday, October 13 from 11:00 AM-4:00 PM at Lums Pond State Park in Bear as we table the Highmark Delaware 5K and Family Fun Day. There will be group activities for visitors of all ages, including Zumba sessions, a Punt, Pass and Kick competition, a Kiddie K and a 5K run/walk for adults. In addition, there will be music, complimentary snacks and giveaways.
For those unable to bike over, there is no park entrance fee for the first 1,000 cars. Proceeds from the 5K run/walk registration will benefit the YMCA of Delaware programs for the prevention of youth obesity.
To register for the 5K run/walk, click here. For more information, please visit highmarkbcbsde.com or contact the Highmark Delaware Wellness Account Manager, Steve Bowman, at 302-421-3221, or at steve.bowman@bcbsde.com
Check out the event flyer in pdf. Google Map below, or click HERE.