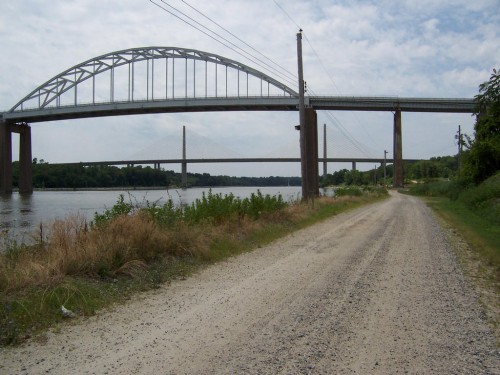 By Tom Maddux, HAD Chair — This year, for the 19th year in a row, you can participate in the Hike Across Delaware. The time and date are: 8:30AM on Saturday November 3rd.
Participants check in at 8:30 AM at Battery Park in Delaware City on Clinton Street, the main street in town.  At 9AM, we board buses that take us to the Delaware Maryland line on the C&D canal, just east of North Chesapeake City.
The distance is 14.7 miles, mostly on the gravel road next to the canal banks.  A small portion goes through a Marina. The last section is through a field. The trail is very well marked with an environmentally friendly orange spray paint. Experienced club members wearing white hats, are there to keep an eye on how you are doing and help you enjoy the day.
At the midpoint (St. Georges, DE) we provide a table with water and food items as well as portable rest rooms. At this point we provide transportation to DE City for those who wish to do only an 8 mile hike or approximately half way across Delaware. Do the other part next year.
The price is $13 for members and $16 for nonmembers. This includes bus and other transportation, portable rest rooms, food items and an HAD tee shirt for everyone who signs up by October 26th. OCTOBER 30 IS THE LAST DAY FOR SIGNUP AS WE MUST ORDER BUSES AND DRIVERS ON THAT DAY.
The hike is mostly flat with beautiful views of the canal and passing ships. The first Saturday of November is a perfect date, as it produces ideal temperatures and fall colors.
Children and runners are welcome. Bikers and dogs are welcome, but we can only transport the humans on the bus.
HAD is in no way competitive. We do not keep track of your time, but you may if you wish to.
Any questions, contact Tom Maddux, HAD Chair: tcmaddux@verizon.net or (302) 824 2874. Pre-Register today!