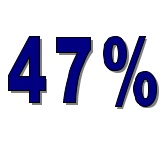 A total of 115 candidates for Governor and General Assembly will be on the ballot on November 6.
54 of them – 47% – took the trouble to respond to our survey.  A big Bike Delaware thank you goes out to all of them!
The survey is now closed.
Along with our partners Sussex Outdoors and Delaware Greenways, we will release the survey results on October 17.  Check back here next Wednesday to find out what candidates running to represent you think about walking and bicycling, and how to make them better.
RELATED:
• 2012 Sussex Outdoors, Bike Delaware and Delaware Greenways Candidate Survey
• Getting in the Race: An Advocate's Guide to Elections from the League of American Bicyclists
• American Bicyclist: Five Lessons From Delaware