The Bicycle Coalition of Greater of Philadelphia (BCGP) has been Bike Delaware's big brother in our region ever since Bike Delaware's founding.  John Boyle, BCGP's Research Director, provided personal leadership to Bike Delaware during our early years.  Bike Delaware could not be more excited for this overdue recognition of Philadelphia and, especially, BCGP.  Have you been to Philadelphia (especially center city) recently?  Cyclists are everywhere!
Congratulations to John, to BCGP and to Philadelphia!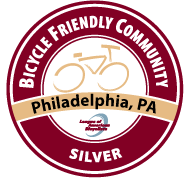 Featured in BCGP's news blog –
Last week the League Of American Bicyclists announced its latest round of Bicycle Friendly Communities and Philadelphia was upgraded to Silver status, making it only one of three cities over 1 million people to reach that level (Chicago and New York). Philadelphia had been awarded Bronze level in 2009.
Philadelphia's routine installation of bike lanes between 1995-2006 was not enough for the city to earn a bicycle friendly community status. Philly received an honorable mention in 2006. Philly broke through to Bronze level in 2009 on the merit of its encouragement activities – a new Bicycle and Pedestrian Coordinator was on the job, a new bike parking ordinance was passed, the Bicycle Ambassadors program was starting up, and a complete streets executive order was put out by the Mayor.
What changed between 2009 and 2012 to warrant the bump to silver? We've rolled out more innovative bicycle facilities, dedicated bicycle and pedestrian staff has increased from one to four City Employees, bicycle parking has expanded, and the City's Health Department continues to support our Safe Routes Philly education program. These measures warranted a Silver rating and none of this would have been possible without the Bicycle Coalition advocating for change and partnering with the City.
Perhaps most importantly for people on bicycles, the award came with a list of recommendations to further improve bicycling. The recommendations, sent to the City, include implementing bike sharing, encouraging employee shower facilities (there is already a petition for city employees), increased training for law enforcement officers, and creating bicycle friendly streets and protected bikeways.  [Continue reading ….]