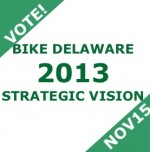 WHAT: Bike Delaware Strategic Vision 2013 (SV2013): Vote on cycling advocacy goals for 2013
WHEN: November 15, 5 to 8PM
WHERE: Newark, Delaware
Register HERE.
November 15: Bicycle Advocacy for the Busy Majority
On November 6, Delawareans will vote on who we want to send to Dover and to Washington, DC to guide and decide the affairs of Delaware and the nation.  On November 15, cyclists will have a second vote.  We will vote on our top priority goals to improve cycling in Delaware.
When cyclists are united and focused on the future, we can reach out and change it.  We've proved that.  On October 5, 2010 (Strategic Vision 2011), we voted to focus on state strategic investment in walking and bicycling.  Less than 18 months later at the National Bike Summit in Washington DC, the Alliance for Biking and Walking, after looking at advocacy campaigns in cities, counties and states across  the entire country, announced that Walkable Bikeable Delaware  was America's Winning Campaign of the Year.
We need your help on November 15 to identify our next winning campaign. If you care about cycling, please come out and vote on November 15 for the goals you think cyclists should focus on in 2013.
****  Register for Bike Delaware Strategic Vision 2013 ****
SV2013 will run from 5 to 8PM on November 15, but we welcome and encourage folks who only have a few minutes to just stop by and vote.  If you need to vote and leave to pick up your kids, make dinner and/or meet a group of civil war re-enactor friends, just swing by anytime between 5 and 8PM and vote for what cyclists' top priority advocacy goal for 2013 should be.