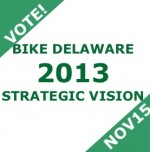 WHAT: Bike Delaware Strategic Vision 2013 (SV2013): Vote on cycling advocacy goals for 2013
WHEN: November 15, 5 to 8PM (unstructured program, come for as long as you can)
WHERE: WILMAPCO, 850 Library Avenue, Suite 100, Newark, Delaware.  Map HERE.
Register HERE.
When cyclists are united and focused on the future, we can reach out and change it.  We need your help on November 15 to identify our winning campaign for 2013. If you care about cycling, please come out and vote on November 15 for the goals you think cyclists should focus on in 2013.
****  Register for Bike Delaware Strategic Vision 2013 ****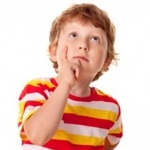 Kids welcome!  SV2013 will run from 5 to 8PM on November 15, but we welcome and encourage folks who only have a few minutes to just stop by and vote.  If you need to vote and leave to pick up your kids, make dinner and/or meet a group of civil war re-enactor friends, just swing by anytime between 5 and 8PM and vote for what cyclists' top priority advocacy goal for 2013 should be.