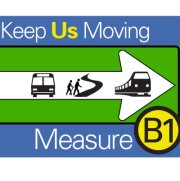 It needed 66.67% (2/3rds) to pass.  But it got 66.53%.
A measure to double Alameda County's transportation sales tax to a full 1 cent and use the proceeds to fund a variety of transportation improvements, including over $600 million dollars dedicated to walking and bicycling,  came agonizingly close to passage, but ultimately failed at the polls by just a few hundred votes out of 600,000 votes cast.
With all precincts and both provisional and mail-in ballots now counted, Measure B1 garnered 65.53% of the vote — just 0.14% short of the 66.67% or two-thirds majority needed to pass.
The measure would have made the sales tax permanent and would have raised $7.8 billion over 30 years to boost spending on roads, freeways, public transit and transit-oriented developments.  Over $600 million of the revenue would have been specifically dedicated to bicycle and pedestrian improvements.
All that is left is for the Registrar's Office to conduct their usual 1% validity check, and then certify the election, by Dec 3. County officials are weighing options for possibly requesting a full recount, or bringing the Measure back to voters in the next two years, with modifications to address some concerns.
(Alameda County, California has a population (1.2 million) similar to Delaware (0.9 million).  In California, county governments play an important role in transportation.  That is not true in Delaware.)
RELATED:
• Measure B1 Comes Up 0.14% Shy of Victory (East Bay Bicycle Coalition)