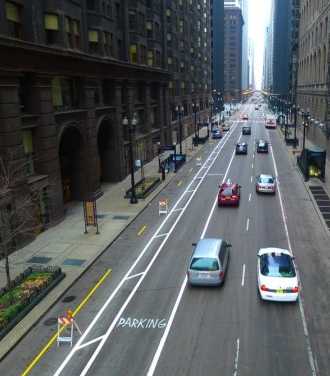 Cross-posted from Seattle Bike Blog — Chicago is currently installing some of the last miles of new bike lanes the city has planned for 2012: A two-way cycle track on N Dearborn Street through the incredibly dense and busy downtown Loop.
The downtown project is part of a protected bike lane push by Mayor Rahm Emanuel, who was elected in early 2011.
When Emanuel took office, Seattle was working on the Dexter bike lanes. Talk of a downtown cycle track was sparse, but gaining wind. By fall of 2011, Seattle opened the Dexter buffered bike lanes to almost unanimous support. Seattle announced plans to fund an update to the Bicycle Master Plan.
Just weeks after the City Council approved the budget that included the plan update, Chicago installed its first protected bike lane on Kinzie Street. For the next year, Chicago would install about 20 miles of protected bike lanes. While Seattle is getting its first glimpses at the first draft of the Bicycle Master Plan Update, Chicago is laying down the paint for the first protected bike lane through the most active part of their downtown.
Meanwhile, Seattle has funded yet another transportation plan that will look in part at downtown cycle tracks. That funding was secured a couple weeks ago. (Photo above from the Active Transportation Alliance) [Read the full article …]
————–
Poster's note:  Cities across America are beginning to grasp the benefits of bicycling and walking, and are moving full steam ahead with the implementation of on-road bicycle facilities and safety improvements. While bicycle plans have been drafted in several Delaware cities, these are little more than recommendations and must wait for the next resurfacing project in order to be considered.

You can visit Newark's Bicycle Plan Workshop tomorrow night at the Newark Municapal Building. The plan was last revised in 2002 and city planners are still looking for comments. Full details in pdf HERE.