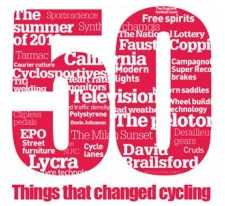 Featured in UK's Cycling Weekly –
By Chris Sidwells — This is a British magazine, and although this is a list of things that changed cycling as a whole, we kick off with something that changed cycling in this country, and probably changed it forever.
Cycling was already on the way up in the UK. Politicians liked it, it became fashionable and lots of people discovered it was good fun to do; then 2012 happened. Team Sky and Bradley Wiggins won the Tour de France. And they didn't just win it, they dominated it.
What had seemed impossible was suddenly put into context. It was a bike race after all and not some mythical prize. A golden avalanche followed in the Olympics, and suddenly cycling mattered. Pro racers became national celebrities, and we all got a little more respect on the road.  [Click here for the breakdown …]