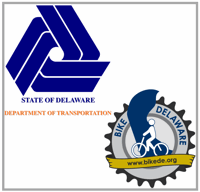 Bike Delaware is joining with DelDOT to co-sponsor site licenses in Delaware for an important national webinar:
Wayfinding Options for Cyclists
Wednesday, December 19 | 3:00 to 4:15 p.m. | Dover and Newark
*** Register Here  ***
Bicycle wayfinding signs are different than other signs placed in the right of way because they are part of a system of sequential destination information.  Planning and placement are critical for the system to work. This webinar, which is being organized by the Association of Pedestrian and Bicycle Professionals,  will consider examples from Seattle, Baltimore and other locations, and will also consider the issue of trail integration.
At Bike Delaware's November 15 Strategic Vision and Vote, "Bikeway Network Signage System" was one of the top vote getters.  If you voted for that strategic goal for 2013, please consider attending this webinar.
You can attend this webinar either in Dover (if you are in Kent County) or in Newark (if you are in New Castle County).  Please register if you plan to attend.