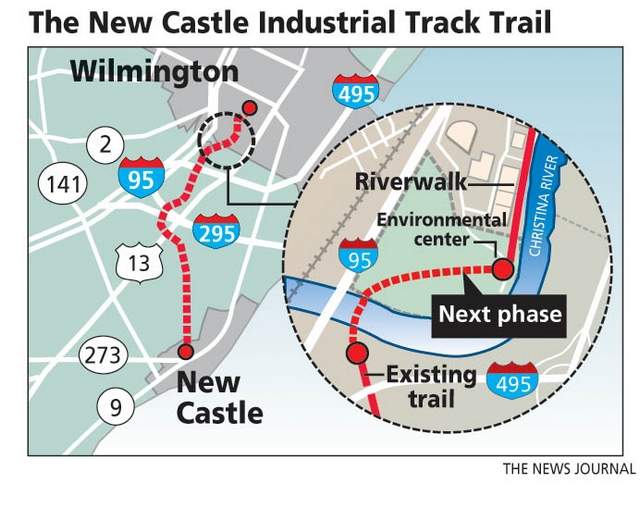 Great article about the Wilmington – New Castle Greenway (aka the Industrial Track Trail) in Friday's News Journal by reporter Melissa Nann Burke. If you haven't read it yet, check it out!
If I have a caveat about the article, it would be that it might convey the impression that the Wilmington – New Castle Greenway is something that has recently been dreamt up. But just by taking a look at the long list of Bike Delaware articles going back to July of 2010 at the end of this post, you can see that's not the case. And, in fact, the genesis of the project goes back a lot farther than 2010:
It's understandable that some folks think it will be many years before a project this big and ambitious  – a six mile greenway connecting the cities of Wilmington and New Castle and all the communities in between – is ever completed. I actually don't think that's true. I think we are going to make it all the way within the next 2 years. Why? Because we – Delaware Greenways, the East Coast Greenway Alliance, the Delaware Bicycle Council, Senator Carper, WILMAPCO, the Historic New Castle Alliance, the Greater Wilmington Convention and Visitors Bureau, the Delaware Nature Society, the Riverfront Development Corporation, the American Heart Association, DNREC, New Castle County and DelDOT, as well as many, many other Delawareans and Bike Delaware – are all joined together to make sure that it does.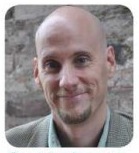 James Wilson is the executive director of Bike Delaware.
RELATED:
• Wilmington-New Castle Greenway: It's the red route
• New Castle Industrial Track – Phase3 Feasibility Study (DelDOT)
• Archive of all past Bike Delaware articles on Industrial Track
• Like Lewis and Clark Reaching the Pacific Ocean
• Why are we hiding the Industrial Track Rail Trail?
• 1st Ever CMAQ-Funded Bike Project in Delaware History
• Coalition wins key support for rail trail
• Eight civic and business groups call for completion of Industrial Track