Do you live in a development with one entrance? Does your child have a friend in a neighboring development? Do you have to drive your child to her friend's house, because there are no sidewalks between the developments? If this is something you have experienced then you need to be in Dover on May 1.
Do you live close to a grocery store in a strip mall? Would you like to ride your bike or walk there, but feel like you can't because the only way to get there is a 4 lane road full of trucks and SUVs that should be labeled a highway? If this is something you have experienced then you need to be in Dover on May 1.
Bike Delaware strives to create a state in which active transportation is not a fringe way of life, but rather a viable option. We are fortunate on two fronts. First we as Delawareans have elected an amazing set of elected officials who understand these issues and are not afraid to take action. Second we have a smart and politically savvy cycling community. That combination is beginning to pay solid dividends. Last year, out of every state in the country, the Alliance for Biking and Walking identified Delaware as having the "Winning Campaign of the Year." And the League of American Bicyclists moved Delaware up 8 places in its ranking of bicycle friendly states, the biggest jump of any state in the country.
But "beginning" is the key word! The last several years have seen millions sent towards Bikeable and Walkable projects. But in the current proposed state capital budget for the next fiscal year shows that we must keep the pressure up. There is a grand total of $0 for Bike and Pedestrian Improvements in that proposed budget! Z – E – R – O !
We need to keep the pipeline of funding full to keep the momentum up rather than letting it come in drips and drabs. Over the next few months the budget for the next fiscal year is coming under scrutiny. Now is the time to come out in force and establish that there is a gigantic community these projects! A major showing at this event could be the difference between continued support and funding this next fiscal year OR not.
We'll see you there!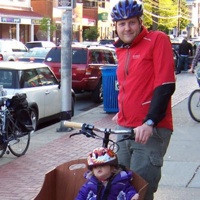 Bob Ruddy is a volunteer for Bike Delaware.
RELATED:
• Walkable Bikeable Delaware Wins National Recognition
• Delaware Jumps Into Top 10 Nationally In Ranking of Bicycle-Friendly States
• Will the Delaware General Assembly Vote For Bike and Pedestrian Improvements This Year?
• Governor Jack Markell to Speak at Walkable Bikeable Delaware 2013 Summit
• Senator Carper to Open Walkable Bikeable Delaware 2013 Summit
• Representative Valerie Longhurst at Walkable Bikeable Delaware 2013 Summit