The City of Wilmington, Bike Wilmington and its supporters/sponsors are proud to hold the third annual Bike-to-Work Day (May 17th). Bike-to-Work Day is a National event spearheaded by the League of American Bicyclists and is part of the larger Bike Month (May). There are many benefits relating to riding to work including better air quality by reducing greenhouse gas emitting cars while benefiting the rider by promoting good health, the result of exercise.
Don't forget that riding a bike is a fun and enjoyable activity and can be a stress reliever.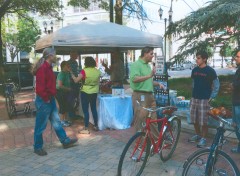 Pictured above:  Bike-to-Work Day 2012
This year's Bike-to-Work Day reception will be at the H.B. Dupont Plaza from 8 a.m. to 9:30 a.m. (across from the Central YMCA on Delaware Avenue). Snacks will be available at sponsor and bike vendor tents.
Participants: are a) entered to win a Grand Prix gift basket and b) receive a free happy hour beverage at Friday evenings Monkey Hill Time Trials in Brandywine Park!!
After work, join Mayor Williams and Bike Wilmington at the Monkey Hill Time Trials (in the Brandywine Park) at 5:30 to watch the amateur and professional bikers climb the cobblestones in search of victory!
2013 Bike-to-Work Day Supporters and Sponsors:
– TBB Cyclery (The Bike Boutique) – The Neighborhood Planning Council  – Downtown Visions – Out & About Magazine – Bike Delaware – The White Clay Bike Club – The Delaware Bike Council – The Wilmington Area Planning Council –  The City of Wilmington – The Wilmington Renaissance Corporation – The Delaware Department of Transportation – Highmark of Delaware
If you have any questions, please do not hesitate to contact Bike Wilmington staff at bikewilmington@wilmingtonde.gov