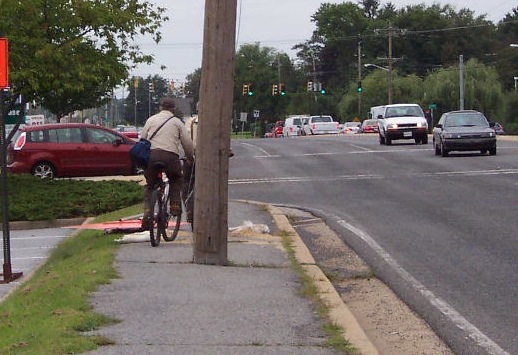 Question: How often do you ride on sidewalks? A) Never ever. B) Sometimes. C)  A lot.
"Never ever." – A.R.
"Rarely if ever." – L.W.
"Never." – R.P.
"Rarely and only if conditions are such that I have to." – K.P.
 "Unless there is a dedicated wide bike lane I will use the sidewalk. I know it's wrong but I just don't feel safe on the road." – D.D.
"Only when safety concerns dictate it." – C.N.
"Only if I have to and there no other safer alternative." – C. J.-P.
"Me and my road bike are on the roads." – C.D.G
"Cleveland Avenue in Newark is a good example." – M.D.
"I use them when I need to… if I am working downtown…I use them to avoid getting killed by the buses….when I am on 52 I use them in Greeneville to avoid the PA drivers trying to get to the red light on Buck road." – R.J.S.
"Often, on specific portions of my commute. I almost never encounter pedestrians on these stretches." – T.P.
"I'm like a B- or C+, if I'm honest…" – E.L.
"Never." – R.G.
Join this conversation on our facebook page if you'd like to share your own experiences.
RELATED:
• All Bicyclists Agree That Bike Salmon Are A Huge Problem…Except for the ones who don't agree