"No person shall place, maintain or display upon or in view of any highway any unauthorized sign, signal, marking or device which purports to be or is an imitation of or resembles an official traffic-control device or railroad sign or signal, or which attempts to direct the movement of traffic or which hides from view or interferes with the effectiveness of any official traffic-control device or any railroad sign or signal." – Delaware Code Section 4111
Vigilantes are loose in Seattle and Memphis. What is going on?
In Seattle, a group of anarchist cyclists calling itself "Reasonably Polite Seattleites" took the law into its own hands and installed plastic pylons along a section of Cherry Street in Seattle: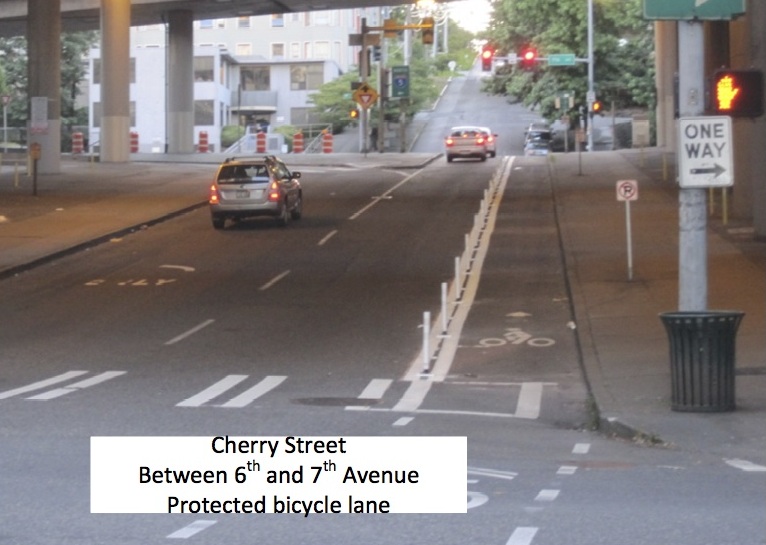 Attempting to justify their indefensible lawbreaking, the outlaw cyclists sent this email:
"Some might ask, very reasonably, how does a piece of cheap plastic protect you from a drunk or distracted driver in a two ton SUV? Based on my experience commuting in such lanes in other cities, 1) they slow speeding traffic by making the lane appear narrower (without actually reducing its size); and 2) it's essentially a warning system for a drunk or distracted driver; once he hits one, he's more likely to slow down, lessening the chance of hitting a cyclist or pedestrian down the road. This string cost about $350 in materials and required literally 10 minutes to install (admittedly, because SPD HQ is across the street, we hurried). SDOT will probably argue maintaining these things costs money, they complicate street cleaning, etc., etc. These are reasonable arguments, except that Chicago, D.C., San Francisco have confronted and overcome the same issues….

"Because we we're still polite Seattleites (even when we engage in acts of civil disobedience), we used an adhesive pad, which is removable, not epoxy, which is more permanent, meaning Mayor McGinn and SDOT can remove these in a matter of minutes."
We thought this lawlessness in Seattle could not possibly get any worse. But we were wrong. Rather than turning this matter over to the police for investigation and the most vigorous prosecution available under the law, an engineer at the Seattle Department of Transportation (SDOT) actually endorsed this lawlessness:
"Hello reasonably polite Seattleites,
"I have good news to share.  SDOT worked with WSDOT to reinstall your thoughtful protector treatment on Cherry Street.  SDOT and WSDOT agreed to monitor the installation to determine if additional changes need to be made.  We also took this unique opportunity to make additional improvements.  We installed a two stage left turn box on 7th Avenue for left turning bicycle riders who may not feel comfortable riding with car traffic, new bicycle lanes on 7th Avenue between Cherry and Marion, and bicycle lane on Marion Street between 7th and 8th Avenue.  Additional information on the two stage left turn box can be found at:http://www.seattle.gov/transportation/docs/CherryStFactsheet.pdf 
"Thank you, again, for your suggestion."
– SDOT Traffic Engineer Dongho Chang
Oh. My. God. This kind of official sanction for lawlessness is a prelude to human sacrifice, mass hysteria and dogs and cats living together.
And, worse, the contagion has clearly spread beyond Seattle. Anarchist cyclists have now taken the law into their own hands in Memphis as well. Check out minute 27 of this video:
We will never, ever do this in Delaware.  Sure, some cycle tracks might seem like they are not hurting anybody. But once we endorse DIY cycle tracks, what's next?! What's to prevent DIY sewers and DIY appendix surgery? It's a slippery slope to anarchy.
RELATED:
• Seattle Makes Guerrilla Bike Lane Permanent
• Chuck Marohn's Closing Plenary at CNU 21 (YouTube)
• Human Sacrifice. Dogs and Cats Living Together. Mass Hysteria
• National Association of City Transportation Officials (Cycle Tracks)