I had read about what bicycling was like in Europe, especially in cities such as Amsterdam and Copenhagen, but had never experienced it until last month.  My husband and I did a fully supported bike tour* from Budapest to Prague and got to ride a wide variety of roads and bike paths.
Wow!  We encountered some pretty amazing facilities.  Our second day, we biked along the Danube on a paved bike path for about 45 miles – almost all of it was free of any motorized vehicles.  Let's see, the longest bike path in New Castle County is, hmmm, 10 miles (the Northern Delaware Greenway).  The terrain was flat, but we fought horrendous headwinds all day, reminiscent of some of the riding I've done south of the C&D Canal.
According to Wikipedia, "The Danube Bike Trail [called Donauradweg in German] begins in Donaueschingen, Germany and ends in the Black Sea [in Romania], making it a total of 2875 km long [about 1800 mi]."  Not all of it is paved, and some sections shift over to local roads as opposed to separate bike trails.  Still, it's an amazing facility used by thousands of cyclists every year…maybe every day.  I suggest you travel it west-to-east, to increase your chances of a tailwind!
We crossed the Danube a number of times.  In Bratislava and Vienna, the bridges had separated bike lanes along side of, or below the driving lanes, accessed by rideable ramps.  One of the ramps was circular, as shown in the photo.  So easy and safe, compared to the bridges across the C&D Canal (except, maybe the St. Georges Bridge), or the Ben Franklin Bridge in Philadelphia!
I was very impressed with the ease with which we rode into the center of Vienna, essentially all on bike trails or bike lanes, with well-designed intersections for bicycles to navigate.  Lots of bikes, and lots of cars, but they seemed to coexist with little conflict.
Many of the roads we traveled between Vienna and Cesky Krumlov (our endpoint before taking a bus into Prague) were much like the roads in Lancaster County, PA, rolling hills through fields of corn, grains, turnips, sunflowers and poppies.  A key difference is that essentially all the houses are clustered in small villages (usually at the bottoms of the hills), rather than having farmhouses scattered around the countryside.  There was little traffic on these roads, but what there was went really fast – yet I rarely felt endangered.  European drivers seems to know how to handle their vehicles much better than Americans – they know the clearances they need to pass cars and trucks…and bicycles, usually without slowing down.  Oncoming vehicles knew to move way over to make room for the vehicles passing us on bikes.
I took my recumbent bike with me – it comes apart and fits in a suitcase, which I can take as regular luggage on the airplane.  I enjoyed its comfort, but was plagued with flat tires.  One was in the front (I think my front tire was abraded while in transit) but fortunately I had a spare tire.  It's a 16" wheel, so I knew I wouldn't find a replacement for that during the tour.  Five flats were in the rear, the last one a spectacular explosion when my rear wheel self-destructed.  Not what I would have wanted, but as a result I got to experience a Czech Republic small town bike shop.  The tour guide loaned me one of their extra wheels and my bike needed some adjusting to accommodate it.  The bike shop was in a small village, literally right next to the rest stop where the sag would meet riders.  (With so many bikes in the country, I think most villages have at least one bike shop.)  The mechanic had a tiny shop area, but went about making the adjustments, and for his 45 minutes of effort, charged me $5.  My brakes seemed to be rubbing when I test rode the bike, so the mechanic hopped on his bike and rode alongside me, to see what was making the noise.  Turned out everything was fine, and the rest of the tour was uneventful!
*Czech Active Tours – www.czechactivetours.com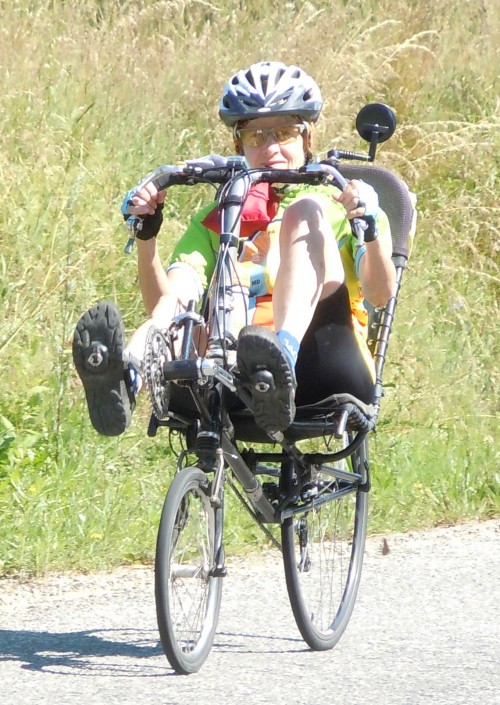 Carol Ireland is a board member and officer of Bike Delaware.