Nobody understands momentum better than cyclists. That's why, even 30 years  after Idaho passed it's "Idaho Stop" law, this issue has never gone away.
by Ken Mcleod
Published at League of American Bicyclists
August 22, 2013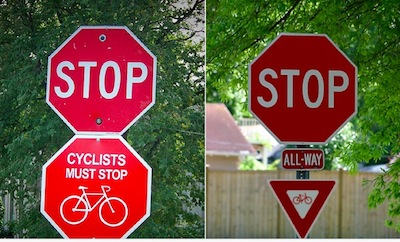 Idaho passed its law allowing bicyclists to treat stop signs as yield signs and red lights as stop signs in 1982. Since that time many bicycling advocates have attempted to spread this law to other states, and have been met with strong resistance. These efforts continue, as recently as this summer, and the strides that cyclists have made since the early 80s have not lessened the calls for this reform.
More than 30 years after Idaho passed its law, the evidence suggests that it is a safe and effective reform.
Read rest of article HERE>>>
RELATED:
• Baltimore Spokes: Should Maryland Adopt the Idaho Stop?

• Utah may become 2nd state to legalize rolling stops for bicycles