Yesterday, we published an article about how Hockessin area legislators, including State Representative Deborah Hudson and State Senator David Sokola, had collaborated to help fund a new walkway on Valley Road in Hockessin. The article also mentioned – but did not emphasize – that the funding from the legislators would be used to secure a federal grant.
While the support from Delaware's legislators was indispensable, 80% of the project is being paid for by a United States federal program which used to be called "Transportation Enhancements". Last year, the program was renamed "Transportation Alternatives" ("TA"). The total funding for the re-named program was also slashed as part of a deal between Florida congressman John Mica, the chair of the U.S. House of Representatives transportation committee, and California Senator Barbara Boxer. (See "Defeat for Cycling".)
The Boxer-Mica deal sold out cyclists by slashing dedicated federal funding for walking and cycling. But that same deal impressed the National Asphalt Pavement Association so much that they recently honored Senator Boxer as the "asphalt legislator of the year".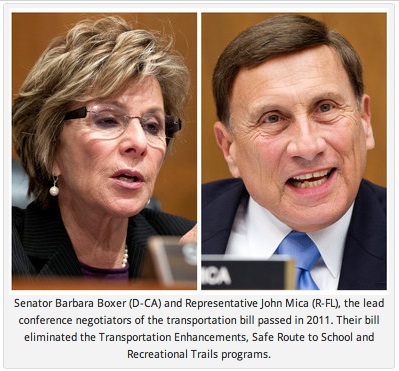 As the executive director of the Bicycle Transportation Alliance recently commented: "Yikes".
The law that Senator Boxer and Representative Mica engineered will expire next year. What will Senator Asphalt replace it with?
I'd like to think that, given two years to think carefully about how the federal government can play a constructive role in encouraging economically valuable investment in safe, family-friendly and low-cost multi-modal transportation options, new legislation will be something that is more pro-walking and cycling. But I'm afraid that it might be worse. I suppose it all depends on who shows up to negotiate. Senator Boxer? Or Senator Asphalt?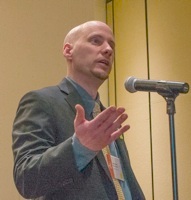 James Wilson is the executive director of Bike Delaware.
RELATED:
• Hockessin Area Legislators Fund Valley Road Walkway
• "TA"-funded Project in City of Wilmington