TO: Director of Transportation, City of Wilmington Department of Public Works
FROM: James Wilson, Executive Director, Bike Delaware
We are excited about the opportunity presented to Wilmington by a federal Transportation Alternatives program grant and by the idea of using this grant to create a neighborway in the city.
The City of Portland has had as much experience with creating successful neighborways as any city in the country. Their system of neighborways (which they call "neighborhood greenways") is a central part of their success at making cycling a mainstream and family-friendly transportation option in Portland. Twenty years ago, Portland's bicycle "mode share" was less than 1%. Today it is more than 6%.
In our conversations with the Portland Department of Transportation, we learned that there are a few simple requirements for successful neighborways:
(1) "neighborway" streets must have a motor vehicle 85th percentile operating speed of no more than 20 mph; and
(2) "neighborway" streets should ideally have a motor vehicle ADT of 500 or less (an ADT of 500 to 1,000 is less preferable but can be accepted); and
(3) intersections, especially with wider, busier roads, must be carefully designed where the neighborway crosses; if cyclists cannot cross busy intersections safely, or perceive that they cannot, they will not use the route.
It is critically important to realize that these three requirements are inter-related. In particular, the street operating speed and volume requirements can often be achieved by appropriate intersection design that prioritizes bicycle through traffic over motor vehicle through traffic on the neighborway by, for example, the use of median refuge islands and traffic diverters:
Another factor that we would urge you to consider is the lack of any examples (that we were able to find) of one-way neighborways. In every single example we were able to find, successful neighborways are two-way. They are either two-way on two-way streets or they are two-way on one-way streets (with explicit accommodation for contraflow cycling):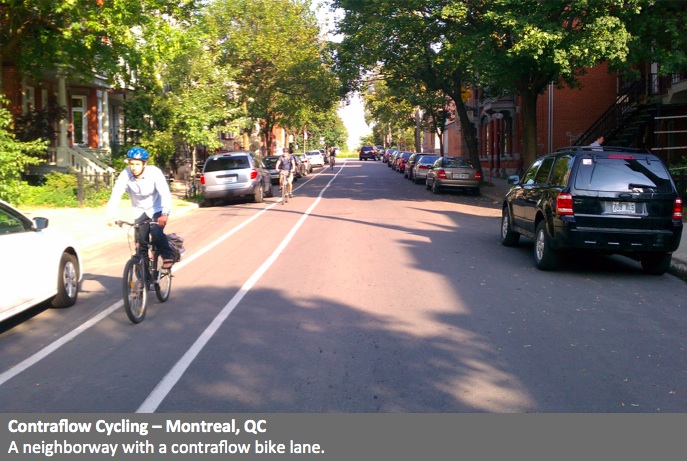 With Wilmington's large inventory of one-way streets, a clever (and essentially zero cost) alternative to traffic diverters is to simply alternate the permitted direction of motor vehicle traffic every few blocks.
As you develop your design for a neighborway, we ask that you make intersection design the driver of your overall design. We ask that you make certain that motor vehicle operating speed is less than 20 mph and motor vehicle ADT is less than 1,000 on the neighborway. We also urge you to consider that the lack of any successful examples of one-way neighborways (apparently anywhere in the world) strongly indicates that any neighborway for Wilmington must be two-way. (If the street is one-way for motor vehicle traffic that means you must accommodate contraflow cycling.) Finally, and most importantly, if immediately available funding is too tight to create a neighborway with the characteristics required for its success, we strongly advise that you use what funding is available on just one component of a successful neighborway (e.g. a single re-designed intersection with a major road) rather than (for example) spending it all on signage. Signage, while important, is much less important than operating speed, ADT and proper intersection design. An incomplete neighborway with a clear path forward for its completion will only require additional funding. We can make that funding happen. But an ersatz "neighborway" that is just a bunch of signs will be a dead-end that may simply bring the entire concept into disrepute. And, once that happens, who knows when we will ever have another chance in Wilmington?
RELATED:
• Gearing up for new 'Bicycle Boulevard' (News Journal)
• Neighborway (Wikipedia)
• Neighborhood Greenways (City of Portland)
• Neighborhood Greenways (PowerPoint presentation from Portland Department of Transportation)