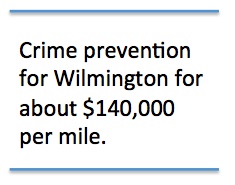 As Mayor Williams moves forward with his meetings with civic leaders about crime in Wilmington, it seems an opportune time to again suggest an additional strategy.
From accounts in the news, discussions about crime in Wilmington seem to always involve (versions of) the same ideas:
Persuading drug dealers to stop shooting at each other
Jobs
Better (more?) policing
Trying to get drug dealers to stop shooting at each other so much is worth a try but expectations of success there should be conservative because, well, they're drug dealers.
More jobs in Wilmington? Absolutely. In the long run, an economically vibrant Wilmington will also be a safe Wilmington. But this is a tough challenge as well with many factors that are outside of this, or any, mayor's control.
Better policing? Sure. But if crime prevention in Wilmington was primarily a matter of either a more sophisticated deployment of police resources, or just additional police resources, then crime in Wilmington should be going down. In fact, however, shootings have actually increased in Wilmington.
What has been missing from the discussion about crime in Wilmington is the idea of natural surveillance.
It is very hard to see how Wilmington's police can solve Wilmington's crime problem by themselves. That's where natural surveillance comes in. Natural surveillance is an idea that is often associated with the urbanist Jane Jacobs, who wrote decades ago (in the The Death and Life of Great American Cities):
"The safety of the street works best, most casually, and with least frequent taint of hostility or suspicion precisely where people are using and most enjoying the streets voluntarily and are least conscious, normally, that they are policing."
How do we increase natural surveillance in Wilmington? By building a "neighborway" from one side of Wilmington to the other.
A neighborway is a low-speed, traffic-calmed street that discourages cut-through motor vehicle traffic. It puts "eyes on the streets" by being a route that is attractive, convenient and safe for pedestrians and cyclists.
A neighborway is not trivial to build. But compared to trying to create more jobs or appealing to the common sense of drug dealers, it's highly practical, even simple. And it has the additional advantage of being something that the city (with a little help from the state) can actually do.
Portland, Oregon may have developed more neighborways (which they call "neighborhood greenways") than any other city in the country. We can learn from them how to do neighborways right. And, equally important, we can learn how much it costs to do neighborways right: about $140,000/mile.
In Portland, people love, love, love their neighborways for reasons that have nothing to do with crime prevention. As the Portland Bureau of Transportation planner who leads their neighborways program says,
"Neighborhood greenways are a physical manifestation of safe routes to school."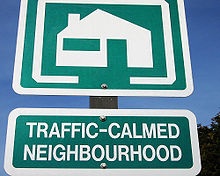 As this great video notes, in Portland kids walk to school at a rate three times greater than the national average. And whereas nationally only about 1% (1%!) of kids bike to school, in Portland 10% of kids do!
Tell us what you think of a "neighborway" for the city of Wilmington (or Dover or Newark or…) in the comments sections here.
Let's try an additional strategy for crime prevention for Wilmington. And let's do so using additional state government resources that would otherwise not be deployed on behalf of Wilmington.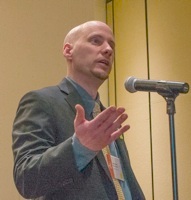 James Wilson is the executive director of Bike Delaware.
RELATED: 
• Crime Prevention For Wilmington For About $140,000 Per Mile
• Wilmington mayor lacks council backing on police shakeup
• In Portland Every Day is Walk & Bike to School Day (VIDEO)
• Can Traffic Calming Reduce Crime in Wilmington?
• How to Make a Great "Neighborway" in Wilmington
• West Palm Beach Traffic Calming
• A New Way of Understanding "Eyes on the Street"
• Fight Street Crime with Speed Bumps and Crosswalks
• Jane Jacobs on neighborhoods, placemaking, and active living