by Chris Merriam
Executive Director
Bikemore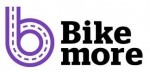 Baltimore is on the cusp of a cycling revolution.
Like in most American cities, after World War II Baltimore planners and engineers tried to prioritize automotive traffic in a city that was once a haven for walking, bicycling, and public transit. Now, the tide is turning once again, with numerous groups popping up promoting bicycling, walking, transit, and general good urbanism — and our leaders are finally listening!
I am the executive director of Bikemore, which is Baltimore's equivalent of Bike Delaware. Bikemore works to make bicycling a mainstream, everyday transportation choice for Baltimore residents of all ages, backgrounds, and ability levels by advocating for bicycle-friendly infrastructure and policy. Baltimore's department of transportation has committed to implementing most of our priorities for 2014, including the transformative Downtown Bicycle Network, a Bikeshare system, and hundreds of bike racks around the city.
Baltimore itself is undergoing a renaissance, with a world-class underground art and music scene, prominent and innovative companies like Mission Media, Under Armour, Legg Mason, and T. Rowe Price, incredible TV shows like Veep and House of Cards filming here, and thousands moving downtown to within five miles of their jobs. Baltimore City is built on a largely intact urban grid, and a critical mass of destinations are within easily bikeable distance. Yet, there remains among most people a sense of fear about bicycling.
That's why we need better infrastructure and awareness of the importance of bicycles to Baltimore's future success. Countless studies, and experience from around the world, shows that when cities create quality infrastructure, the number of people bicycling increases. And when bicycling increases, the benefits for all citizens, and the city as a whole, are huge. We are hopeful and confident that Baltimore will continue to improve over the next several years, and we expect that bicycling will be a key component of that improvement.

Bikemore is hosting a Winning Campaigns Training April 11-13, facilitated by the Alliance for Biking & Walking.
Do you want to do something to promote or improve bicycling or walking in your town, but aren't quite sure how to pull it off?
Want to put on a ciclovia?
Get a bike lane painted on your street?
Calm traffic at a dangerous intersection?
Do you have an important vote coming up?
Need to convince your city council to pass a key policy?
Are you trying to gather funds and support to start a new biking or walking initiative?
Led by seasoned advocates and national experts, the training teaches participants how to:
Identify and reach key decision-makers
Craft a persuasive message to rally members and policy makers
Use media outlets to communicate to a broad audience
Become an effective fundraiser
And much more!
Then this training is for you!
Register today for the Alliance for Biking & Walking's Winning Campaigns Training, April 11 – 13 in Baltimore, MD.
We would love to show some of our Delaware neighbors around Baltimore at the Winning Campaigns Training — the good, bad, beautiful, ugly, and sublime! We love our city, despite (and sometimes because of) its faults.
I can personally attest to how good these trainings are. I went to one in April 2012 in Boston and learned a great deal — not only from the professional facilitators, but also from my fellow "students" — about what a WINNING CAMPAIGN for alternative transportation looks like.
I hope to meet some of you in Baltimore in April!
Register here for Winning Campaigns Training on April 11-13: https://www.eventbrite.com/e/winning-campaigns-training-baltimore-registration-10320395581