Thank you Mississippi and West Virginia!
Delaware is the "First State" because we were the first to ratify the United States Constitution. But it's only thanks to our sister states Mississippi and West Virginia that (according to a recent Gallup survey) we are not the "First State in Obesity."
But Mississippi and West Virginia both have to take a back seat to Delaware in another measure because Delaware really is #1: The #1 Worst State in Amount of Physical Exercise.
We CAN change this but not by mailing everyone in Delaware a free gym membership so we can all get stuck in traffic trying to drive to the gym. The way we are going to change this is by making Delaware so walking- and cycling-friendly that we will all get the physical exercise we need every single day just by stepping outside our front doors and walking and cycling to daily destinations.
Fortunately, we don't need to figure out how to do this all by ourselves. Instead, the 2014 Walkable Bikeable Delaware Summit (Dover, May 1) is bringing transportation agency professionals from the most bicycle friendly communities in America to explain the "secret recipe" for how to make our communities bicycle friendly. We invite you to join them, along with Governor Markell and other elected officials, DelDOT managers, engineers, planners, cyclists, public health professionals and greenway and trail advocates from all across Delaware.
Thanks to our incredibly generous sponsors, summit attendance is free. But you do have to register!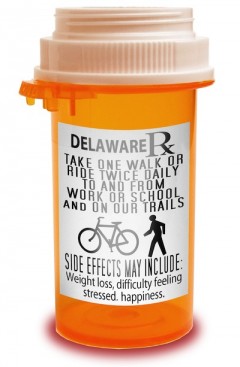 HELP GET DELAWARE'S PRESCRIPTION FILLED
REGISTER FOR THE 2014 WALKABLE BIKEABLE DELAWARE SUMMIT