Join nearly 2,000 cyclists for the largest bike ride in Delaware (and one of the largest on the east coast), the 28th annual Amish Country Bike Tour on September 6.
Organized  by Kent County Tourism, over 500 Delawareans will ride in September, with the rest coming from all over the country (and even a few international riders).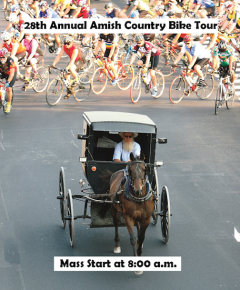 Registration is now open for teams and individuals. Registration Fees (You may register online at http://www.AmishCountryBikeTour.com, or download the registration form from the website and mail it in):
May 17-July 31: $50/adult; $25/5-16; Under 5 free
August 1-September 6: $60/Adult; $30/5-16; Under 5 free
Team registration is also open. Teams must have 10 members to qualify for the discounted rates. To enter as a team, email csmall@visitdover.com or call 302-734-1736Amish.
The Amish Tour is enjoyed for its flat, flat, flat roads (Kent County is about two feet above sea level), its camaraderie, the slice of locally-baked fruit pies served at the Amish Schoolhouse, the panoramic countryside, a route that includes working Amish farms, getting up close and personal at the Amish Schoolhouse, enjoying "small town America," and, of course, the catered barbecue meal at the end of their ride.
For more information, visit www.AmishCountryBikeTour.com or call 800-233-5368.