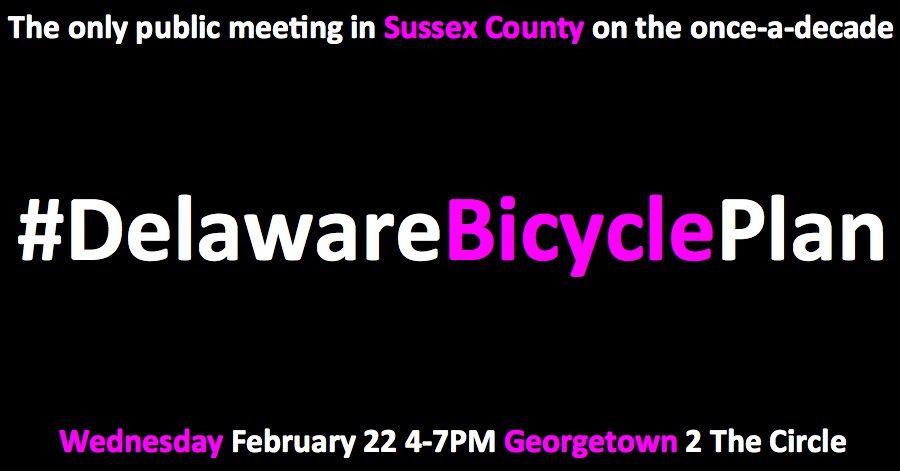 Meeting over.TODAY (Wednesday, stop by anytime between 4 and 7PM) is the only public meeting that will be held in Sussex County (2 The Circle, Georgetown) on the new Delaware Bicycle Plan. This is a once-in-a-decade opportunity to get the bicycle improvements your community needs in an official plan. (If you miss this opportunity, your next opportunity may not come around again until 2027!) And let your neighbors know about this meeting! One person demanding a bicycle connection is a crank. But five people demanding a bicycle connection are irresistible!
At this meeting there will be maps to draw on to indicate where improvements are needed in Sussex County. Every great bicycle network improvement project – whether it was a huge and ambitious project like the Wilmington-New Castle Greenway or the Lewes-Georgetown Trail or a little "neighborhood connector" that connected a community into a larger network – first started out its life as just a line on a map. Someone – someone like you – first drew that line on a map.
If you have an idea – large or small – for a bicycle network improvement that will enable more people in your community to safely access a nearby trail, or bike to school, to the store, to a restaurant, to a park, to a library or to work, there are two things you should do at tomorrow's meeting:
Describe where this project should happen (i.e. draw a line on a map).
Ask that your project idea be prioritized by planners using Level of Traffic Stress analysis.
Delaware is the #3 Bicycle Friendly State in America. Check out our #3 "Report Card" which tells us how to become even more  bicycle-friendly. The number one recommendation in our Report Card is to help you at this meeting:
"Help communities and the public evaluate potential bikeway projects in terms of their quantitative impact on the percentage of total trips that can be made under low traffic stress conditions."
If you'd also like to share your idea with us, we'd also love to hear about it!
Upcoming Delaware Bicycle Plan meetings in Georgetown, Middletown, Dover and Wilmington:
Wed., February 22, 2017, 4-7pm     Sussex County Council Chambers    2 The Circle, Georgetown
Mon., February 27, 2017, 4-7pm     Middletown High School     120 Silver Lake Rd, Middletown
Tues., February 28, 2017, 4:30-7:30pm    Dover Public Library     35 East Loockerman St, Dover
Wed., March 1, 2017, 4-7pm     Wilmington Public Library     10 East 10th St, Wilmington