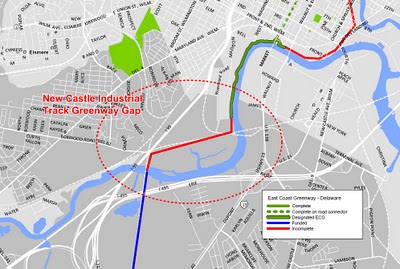 Representatives of a consortium of Delaware organizations involved with non-motorized transportation will be meeting with Wilmington Area Planning Council on July 15 to draw attention to an un-ranked FY 2012-2015 TIP Bicycle/Pedestrian project named "New Castle Industrial Track/ECGW: Boulden Blvd little league-Wilm Riverwalk". The Council will have an opportunity to prioritize this project.
For those who may not be familiar, the Wilmington Riverwalk extends over a mile south from downtown Wilmington towards the Russell Peterson Wildlife Refuge, where it currently terminates in a dead-end. Similarly, the New Castle Industrial Track Greenway recently built with American Recovery and Reinvestment Act funds runs north from old New Castle to a little ways beyond Boulden Blvd, where it also terminates in a dead-end. The "New Castle Industrial Track/ECGW: Boulden Blvd little league- Wilm Riverwalk" project would connect these now isolated paths, leveraging investments already made and providing a non-motorized connection between Wilmington and New Castle.
Participation among the bicycling and pedestrian community is crucial as we request that the Council rank this project highly. It is late notice, but we are asking Bike Delaware members, and anyone else with interest, to please join us at this meeting and show your support. It begins at 6:30 pm.
See the official letter to WILMAPCO Council in pdf HERE. Map showing meeting location at 850 Library Ave, Suite 100, Newark HERE.