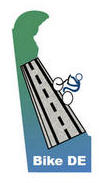 On Sept. 7, Bike Delaware's executive board voted unanimously on a new, bolder mission statement. The following draft will be opened to membership comment at a future date (TBA) before final approval:
"Our mission is to make bicycling a safe, fun, and convenient transportation option by working in partnership with local government agencies, businesses, and community groups".
The board also voted in favor of monthly meetings instead of every 2 months, to meet the demands of an ever increasing agenda and the formation of subcommittees to handle our organization's primary goals and objectives.
As always, we encourage members, constituents, and other interested parties to attend at least a few Bike Delaware meetings per year, whether you can volunteer or not. Full information, including meeting minutes since 2008 can be found on our participation page HERE.