Travel Between Wilmington and New Castle Faster By Bicycle Than By Car?
In the "Walkable, Bikeable Delaware" Resolution passed unanimously last week, the Delaware General Assembly declared that
BE IT FURTHER RESOLVED, that in these efforts the Department of Transportation shall create multi-use paths for pedestrian and bicycle user travel within and between cities and towns in Delaware on independent right-of-way outside of the right-of-way of existing roadways;
During the debate in the Senate over this Resolution, Senator Bushweller (D-Dover) stated his concern about the potential high cost of right-of-way acquisition (although he voted for the Resolution), but in fact available right-of-ways have been in the possession of the State (or other governmental entities) for, in some cases, decades.
As just one example, a practically ruler straight 6 miles of right-of-way has been available to the public between Wilmington and New Castle ever since the Penn Central railroad went bankrupt in the 1970s. After sitting unused for decades, this project finally (!)

got started

in 2010:
Click on image to expand (+):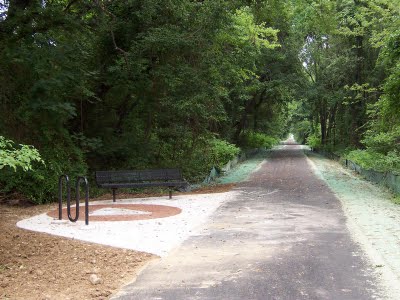 Phase 1 of Wilmington-to-New Castle Bicycle Highw
ay
Now only the last mile ("

Phase 3

") of a Wilmington-to-New Castle Bicycle Highway, a ruler straight bicycle expressway with only
a single at-grade road crossing in six miles,
remains to be funded.
Bike Delaware says finish the Wilmington-to-New Castle Bicycle Highway! But we're not the only ones!

Delaware Greenways and the Delaware Bicycle Council

and

Delaware's congressional delegation

also want this project completed. And both local business and community groups support it as well.
To drive between Wilmington and New Castle means stopping at a dozen stop lights on either Rt. 9 (a 4 lane, high-speed arterial road) or Rt. 13 (like Rt.9, except 8 travel lanes instead of 4). Could a motivated bicycle rider really go from Wilmington to New Castle faster than a motorist? With direction from the Delaware General Assembly to DelDOT to "

plan, prioritize and fund the

timely construction

" of projects like this, we will have an opportunity to find out soon.
For more information about the Wilmington-to-New Castle Bicycle Highway, and/or other similar "Walkable, Bikeable Delaware" projects across Delaware, email

wbd@bikede.org

.