Crazy Mini-Cooper Drivers
 
Pucher and Dijkstra have calculated that the bicyclist fatality rate in the United States was about 10 times (1000%) the fatality rate for the occupants of cars and small trucks per mile (or kilometer) traveled (1995). We summarized their work in a recent post (where we delved into the statistics a little more deeply).
But why should this be? After the death of a bicyclist, the comments usually come fast and furious that the bicyclist must somehow have been at fault…and if the news story happened to mention that the victim wasn't wearing a helmet: forget about it! For many people that's the entire story. Any bicyclist not wearing a helmet is, by definition, crazy and reckless. There is no need for any additional thinking! (Phew.)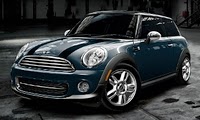 But if bicyclists, as a class, are responsible (because of their crazy and reckless bicycling ways) for their own disproportionate tendency to die in traffic, then what are we to make of the statistics that the drivers of the smallest cars are about
3 times
(300%) as likely to die in a crash as the drivers of the largest cars? Well, we have a series of plausible explanations that we can analogize from conveniently. One very likely explanation: drivers of small cars are 300% more likely to drive the wrong way. No? OK: drivers of small cars drive defensively and therefore are less visible than larger cars. (Small cars need to learn how to "take the lane".) That's probably true, but, if it isn't, this surely is: the drivers of small cars are 300% more likely to drive under the influence of alcohol. I've known lots of mini-cooper drivers and they have all had drinking problems, with one or two exceptions. And not only do they drink, the drivers of small cars are also lazy! I don't have any doubt that they are 300% more likely to drive without the appropriate personal protective equipment.
What do you think?
RELATED
• Traffic Safety Facts : Bicyclists and Other Cyclists