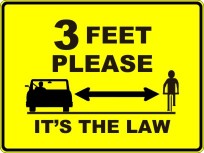 By Amy Wilburn, Chair, Delaware Bicycle Council
On Monday 7/25/2011, Governor Markell signed SB 38, Delaware's "three foot passing" bill. With the signing of this bill, Delaware becomes the nineteenth state to have a passing law to protect cyclists. The law not only provides additional legal protection, it provides an important educational opportunity.
Delaware's law reads as follows:
"The driver of a motor vehicle, when approaching a bicyclist traveling in the same direction, shall ensure the safety and protection of the bicyclist by:
a. Proceeding with caution and yielding the right-of-way by making a lane change into a lane not adjacent to that of the bicyclist, if possible, with due regard to safety and traffic conditions, if on a roadway having at least 4 lanes with not less than 2 lanes proceeding in the same direction as the approaching vehicle; or,
b. Proceeding with caution and reducing the speed of the vehicle to a safe speed and leaving a reasonable and prudent distance by providing a minimum of three feet of clearance while passing such bicyclist, if changing lanes would be impossible or unsafe."
The Delaware Bicycle Council again wishes to thank Senator Dave Sokola for sponsoring this bill and for working with the Council, the Delaware State Police and DelDOT to ensure that the bill addresses the needs of cyclists. The Council also wishes to express appreciation to Senator Sokola's legislative aide, Glenn Shipley, for his efforts, to Representative Valerie Longhurst and her legislative assistant, Melissa Hopkins, for spearheading the effort in the House, and to the following other cosponsors: Representatives Schooley, Hudson, Keeley, B. Short and Senator Cloutier.
———
Poster's note: While some might question its effectiveness, having a 3' passing law is more about education and legal protection for bicyclists than actual enforcement out on the road. Not only is this a significant moral victory for Delaware bicyclists, it also adds another legal tool should an incident occur. Delaware also passed a vulnerable road users law, and we have legislation in progress to legalize the use of right turn-only lanes as shoulders. These additions and changes to the law will go a long way toward reversing the dismal prosecution rate enjoyed by at-fault motorists when striking a non-motorized road user.