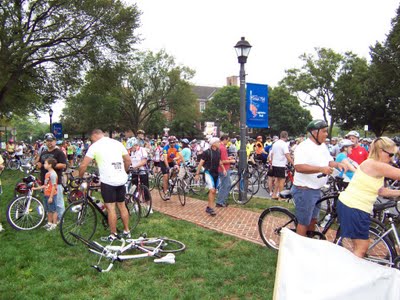 A brief recap of the Amish Country Tour on Saturday Sept. 10
Not even a 50% chances of rain (NOAA) was going to get in the way of this one. A record 1,700+ riders participated in the Amish Country Tour on September 10, shattering
last year's number
by over 400. On hand for the first time were several large teams, including "Team DelDOT" led by
Shailen Bhatt
, Transportation Secretary, and his wife Neelam who completed the 25 mile loop.
An unexpected late surge by day of event registrants pushed the start time closer to 8:30am, but it was worth the wait to ensure everyone had the chance for a mass start. Once off, it was as though a gigantic cycling amoeba overtook the City of Dover and beyond. It was a steady stream up every road for as far as the eye could see.
A noted change in this year's event was the lack of "goody bags" at registration. Promotional items, usually making up most of the contents, were placed in large bins and were optional for the taking. This eliminated the customary finding someplace to put it, usually a second trip to the car for most folks. The organizers were extremely helpful in accepting Bike Delaware tabling materials (banner, brochures, etc) at the start and setting them up in the publicity area after the registration crush was over.
Below are some photos taken on the day. A big tip of the helmet to
Kent County Convention and Visitor's Bureau
for stepping up to the challenge, and providing a great day out for everyone. Be sure to sign up asap for next year, as they attempt to break the 2,000 mark!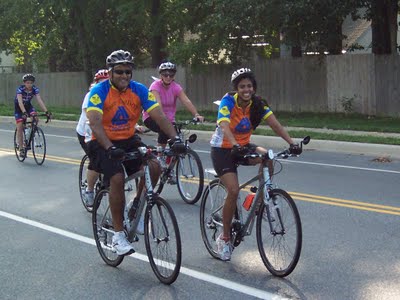 DelDOT Secretary Shailen Bhatt and his wife Neelam proudly display their new DelDOT cycling jerseys as they roll out of town.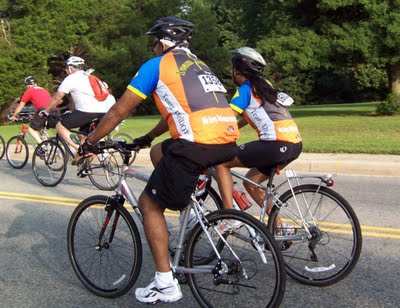 Another view, this time from the side, of Secretary Bhatt and his wife, Neelam.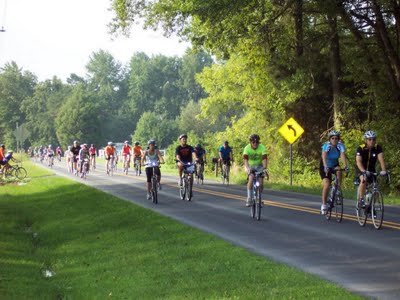 A front view of the "peloton" (as some might refer to it), as they headed out beyond the Dover city limits.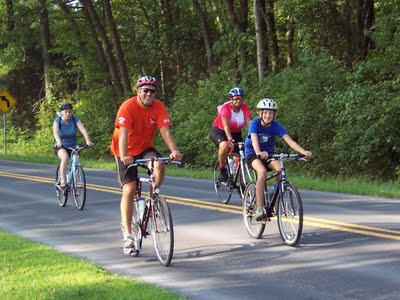 Anthony Aglio, DelDOT's Bicycle Coordinator, and his daughter Maci enjoying what turned out to be a dry day throughout. No rain was going to spoil this parade!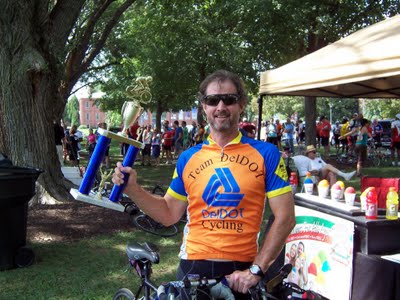 Dan LaCombe, DelDOT Planner and assistant to Anthony (and a terrific help where state bike matters are concerned!), shows off his team's 3rd place trophy for highest number of participants.