Where Bicycling Shows Up in the State's Spending Priorities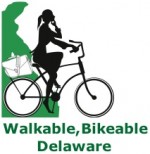 About a month before the Delaware General Assembly passed "

Walkable, Bikeable Delaware

", Governor Jack Markell signed Executive Order #26, releasing an updated "

State Strategies for State Policies and Spending

". What the heck are "State Strategies for State Policies and Spending"? Well, in a nutshell (also known as an

Executive Summary

) these "strategies" are supposed to "coordinate land-use decision-making with the provision of infrastructure and services in a manner that makes the best use of our natural and fiscal resources."
Agriculture, the environment, education and more…they all have spending "strategies" that we're supposed to be following in Delaware so that limited resources are spent wisely. At Bike Delaware, however, our particular focus is on transportation and bicycling. Does the state recognize bicycling as a prudent investment? Do we show up anywhere in the state's transportation spending priorities?

Indeed, we do. Delaware's official top transportation spending strategies include maintaining the current transportation system (#1), improving the traffic-signal system (#2), making investments to reduce injuries and fatalities (#4) and building sidewalk networks (#8). State transportation strategy

#9

is
"Collaborate to link cities and towns by a network of off-alignment multi-use paths that can be used by commuters in addition to recreational pedestrians and bicyclists."
So, there you have it. We're not the state's #1 transportation strategy. That should not come as a surprise. But we are on the list even if only at #9. That's an important acknowledgement and, given the miniscule number of people who currently use a bike as their main way to commute in Delaware, a remarkably visionary action by the state.

Let's build on that opportunity

.