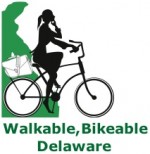 Before yesterday's (first ever) joint meeting between the Wilmington Bicycle Advisory Committee and Newark Bicycle Committee, we received an email from reader CS saying she wished she was able to attend:
"So much of the suburban area where we live is just plain impossible to negotiate unless you are in a car…Our kids are trapped in our neighborhood in terms of bike riding."
Here at Bike Delaware World Headquarters we hear this observation – in one form or another – over and over again (as well as experiencing it ourselves every day).  And it makes us wonder.  If we don't start reversing the trend, will bicycling just die out altogether in a generation or two?  Will bicycling simply become an exotic sport completely divorced from any personal experience in the lives of its spectators?
When we were growing up, we biked everywhere.  It was how we got to explore the wider world on our own without direct adult supervision.  And it was how we started to learn the skills we needed to be independent adults.  It was also how we learned about the responsibilities that come with freedom.  And it allowed us to learn these lessons in a context where the consequence of an error or mistake was a skinned knee or, at worst, a broken bone.
Most of our children today are not nearly so fortunate.  If we allow our children to explore the world by bicycle (which has become rare), we know how ghastly the consequences can be.  Far more commonly, we simply keep our children in a state of unnaturally extended dependency – think video games and "play dates" – until they either get a drivers license or leave home altogether.  And then they have to learn the lessons of responsibility and freedom fast and in a context where a mistake or an error can have literally fatal consequences.
When it comes to our children, we worry about everything under the sun.  "BPA".  Pesticides in our food.  Pedophiles.  But, in point of fact, motor vehicle crashes are the leading cause of death for U.S. teens, accounting for more than one in three deaths in this age group.  And rates of chronic, life-style related diseases are growing every year.  Neither one of these things are a mystery.  They both relate to the kind of built environment that we have created for ourselves and for our children.
For all these reasons (plus others), we need to invest in a walkable and bikeable Delaware.