One Small Step for AASHTO.  One Giant Leap For Bicycling.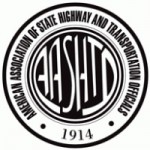 One of these days, the very careful, cautious, deliberative and conservative American Association of State Highway and Transportation Officials (AASHTO), will finally release their long-awaited update of the Guide for the Planning, Design and Operation of Bicycle Facilities.  The current Guide – which defines what can and can't be built for bicycling in Delaware as far as DelDOT is concerned – has not been updated since 1999. Despite all the changes that have taken place in the last 12 years and the great examples of progressive engineering guides from CROW and NACTO, however, draft releases suggest that the updated AASHTO Guide will be an evolutionary rather than revolutionary document.
As Archimedes pointed out, however, sometimes small changes can have surprisingly large effects.  In this spirit, we draw our readers' attention to the fundamental design challenge of "parallel" multi-use paths that share right-of-way with adjacent roads: driveways.  The current (1999) AASHTO Guide offers little help.  It notes that "[e]fforts to require or encourage bicyclists to yield or stop at each…driveway are inappropriate and frequently ignored by bicyclists" but indiscriminately groups driveways with roads in its discussion of path crossings.  It refers in passing to "Right-of-way assignment" but does not explain how this should be done when a path crosses a driveway.  But the new Guide appears poised – without making a big fuss about it – to take a very different approach to driveways:
February 2010 draft release of Guide: "Design driveways to reduce driver speeds and heighten awareness of path users.  Strategies can include…keeping the path surface continuous across the driveway entrance, so that it is clear that motorists are crossing an area where the path user has the right of way…[emphasis added]"
Up to now, the parallel multi-use paths that have been built in Delaware have been nearly indistinguishable from sidewalks.  When they are built in developed areas and frequently cross access driveways, at each intersection they dip down to the driveway, delivering the clear message to motorists (and path users) that motorists have the right of way in the driveway.  The new Guide (if it retains the language of the earlier draft) will turn this 180° around and give us multi-use paths with unambiguous right-of-way assignment that will be popular with – and safe for – every class of cyclist.
Still not convinced?  Sometimes a video is worth a million words (see first two minutes):