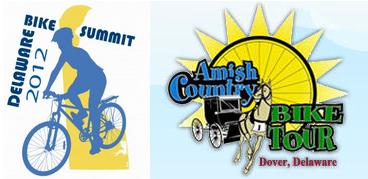 By Cindy Small, Kent County Tourism –

The Amish Country Bike Tour Committee and the Delaware Bike Summit Planning Committee are pleased to announce that the 2012 Delaware Bike Summit will be held in Dover on Friday, September 7.
2012 DELAWARE BIKE SUMMIT
Friday, September 7, Dover, DE
2012 AMISH COUNTRY TOUR
Saturday, September 8, Dover & Kent County, DE
The Summit will  focus on "Active Transportation" including health benefits and how we make Delaware more bicycle friendly. Sessions will include: Youth Encouragement; Bicycle Friendly Businesses; The Hidden Cyclist; Creating Bicycle Friendly Communities; Update on the Trails and Pathways Plan; and the Dover Bike Plan. Come to Dover on Friday for the Summit, spend the night and be ready to roll on Saturday morning at the Amish Country Bike Tour!
The Summit is FREE of charge, and includes lunch, breaks and materials.  You don't have to reside in Delaware to attend, just be interested in cycling.  Lodging packages will be available. For more information:   www.wilmapco.org/bikesummit. For more information on the Amish Country Bike Tour: www.AmishCountryBikeTour.com.