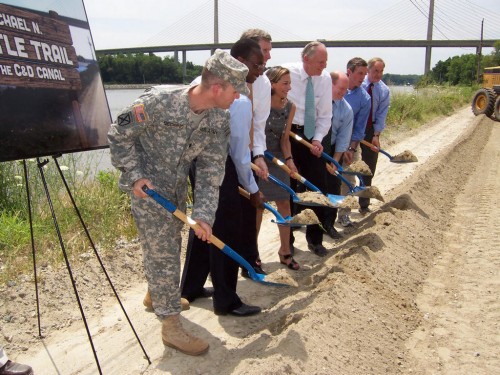 The weather turned out hospitable for the Chesapeake and Delaware Canal Path Michael N. Castle Trail at the C&D Canal groundbreaking event held at noon on July 9th. Everyone was thankful that the temperature was nothing like Saturday's 101+ degree heat.
It was a excellent opportunity for everyone involved to gather, to officially break ground and initiate the project after years of planning. This included DelDOT, USACE, FHWA, State Parks, our Congressional Delegation, multiple advocacy organizations, interested citizens, etc.
Below enjoy several photos taken on the day, many focused on Delaware's Fab 4 Cs (Reps and Sens Carney, Carper, Castle, and Coons). A full set of 37 can also be viewed on Shutterfly HERE.  The event was very well attended, and given the frenzy of media coverage, there will be much more to come in the days ahead. Stay tuned!