2012 Look Back: This article was originally published on September 20, 2012.  It was the 6th most viewed Bike Delaware article of 2012.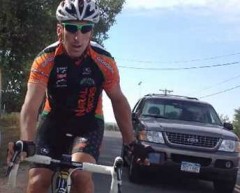 This time, an i-Phone ensures that justice is served.
Adventure Journal | Cyclists have been harassed by drivers for years with little to no recourse, but thanks to technology and changing attitudes among law enforcement, justice increasingly is being served: The driver who hassled two road cyclists in Colorado this week by following them and honking his horn obsessively for three minutes has been charged with four misdemeanors by the Colorado State Patrol.
James Ernst, 75, of Erie, Colorado, was cited for improper use of his horn, two counts of harassment, and – this is the most delightfully schadenfreudenistic part – impeding traffic. Ernst was caught on video by Dirk Friel, a former pro roadie, developer of TrainingPeaks software, and coach, who used his iPhone to capture the incident.  [Continue reading …]
Related: