If you want to travel from point A to point B in Delaware, doing so has become increasingly safe…as long as you are traveling as an occupant in a motor vehicle.
Traffic fatalities for occupants of motor vehicles have fallen almost every year for the past 10 years in Delaware.  That is a cause for celebration!
On the other hand, the safety risks to pedestrian or a bicyclists have not shown any equivalent progress over the last 10 years.  In fact, not only have the number of pedestrian and bicyclist fatalities not declined at the same rate, they have actually increased somewhat: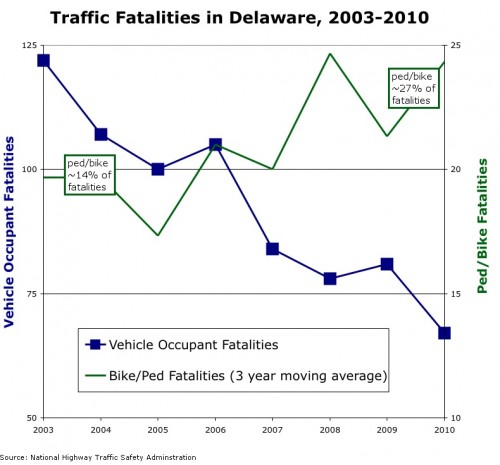 We need to be cautious in over-interpreting these statistics (from the National Highway and Traffic Safety Administration).  But the downward trend in motor vehicle occupant fatalities has been going on since 2003 and appears robust. Even if this downward trend were to stabilize (i.e. if the number of vehicle occupant fatalities ends up plateauing at between 50 and 75), that would leave ped/bike fatalities at around 25% of total traffic fatalities in Delaware (since they have not declined at all since 2003).
Though pedestrian and bicyclist fatalities now represent a quarter of all traffic fatalities, Delaware does not invest anything near 25% of its traffic safety dollars in ped/bike safety projects.
There is an urgent need in Delaware to bring pedestrian and bicyclist safety into greater focus, and make a far greater commitment to reducing these far-too-frequent and senseless tragedies. All Delawareans have the right to travel safely, and that includes those who do so unprotected by thousands of pounds of steel armor.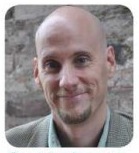 James Wilson is the Executive Director of Bike Delaware.
RELATED:
• Delaware Strategic Highway Safety Plan