Are you new to riding on the road in groups and want to be more confident? This class is for you.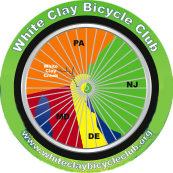 OUTDOOR CYCLING 101
This one day course sponsored by the White Clay Bicycle Club (WCBC) is for adults who would like to cycle on the road in a group but feel they lack the skill and knowledge to do so. We will provide instruction and guidance in the following areas: bike selection, basic bike maintenance, clothing and accessories, bike handling, traffic skills and riding in a group.
The course will include classroom, as well as, parking lot and an on road group ride instruction.
Instructors: Tom and Cindy Mannis
Date: Saturday April 6, 2013
Time: 8:30am to 4:00pm
Cost: $30.00
Place: Hockessin Athletic Club (100 Fitness Way, Hockessin, Delaware 19707)
To reserve a spot please call the front desk of the Hockessin Athletic Club at 302-239-6688. All are welcome. (members and non-members)
Must be age 18. Must bring a bike, preferably a road bike or hybrid, helmet and comfortable biking clothes.
For questions or problems email: Cindy Mannis at: mannis11@comcast.net
Bicyclists have fun when they cycle with skill and confidence.