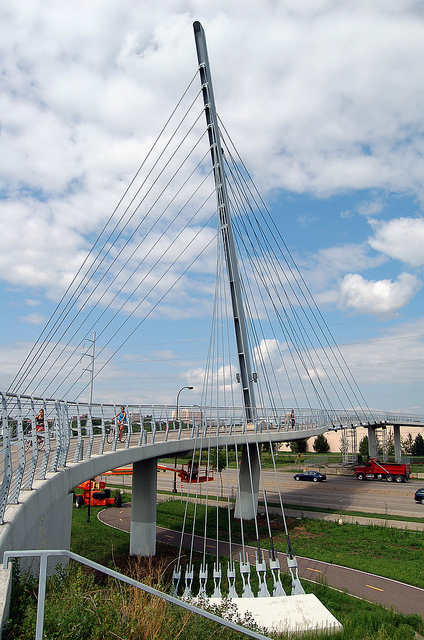 By Jay Walljasper
Published in Bicycle Times
People across the country were surprised … when Bicycling Magazine named Minneapolis America's "#1 Bike City," beating out Portland, Oregon, which had claimed the honor for many years. Shock that a place in the heartland could outperform cities on the coasts was matched by widespread disbelief that cycling was even possible in a state famous for its ferocious winters…
"Places famous for biking, like Copenhagen and even Portland, feel very far away," remarked Jeff Stephens, executive director of the Columbus advocacy organization Consider Biking. Stephens came to Minneapolis looking for ideas he could apply back home. "It was exciting to see what they've accomplished in Minneapolis, which is a city that seems a lot like Columbus.
A world-class network of bike trails
Over three days in mid-July, the visiting group of city officials, planners, and citizen advocates pedaled all over Minneapolis in conditions more typical of Copenhagen or Portland—a constant threat of rain—than Minnesota's usual warm, sunny summers.
They inspected America's "first bike freeway," Cedar Lake Trail, running along an uninterrupted rail corridor from the western suburbs through downtown Minneapolis to the Mississippi River. They also rode the Midtown Greenway, another converted rail line cutting through the city's south side that carries as many as 3,500 bicyclists a day.
Both the Cedar Lake Trail and the Midtown Greenway connect to numerous other trails, creating an off-road network that reaches deep into St. Paul and surrounding suburbs. Intersections are infrequent along these routes, which boosts riders' speed along with their sense of safety and comfort.
The crown jewel of the Midtown Greenway is the Martin Olav Sabo Bridge, a striking modernist structure that loops bike and foot traffic high above a formidable seven-lane highway. It's named for a former Minneapolis congressman who became an early champion of bike riders in the 1990s.
Another sight along the Midtown Greenway is less dazzling but bodes well for cycling's acceptance as a legitimate form of transportation. City engineers recently reversed a stop sign to give bikes priority over cars where the trail meets 5th Avenue South. The reason: more bike riders move through the intersection on a typical day than motorists.
Read entire article from Bicycle Times HERE>>>
RELATED:
• Breathtaking Bike Infrastructure: Minnesota's Martin Olav Sabo Bridge