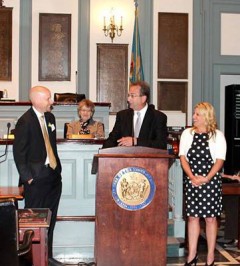 The Delaware House of Representatives recently recognized our Executive Director, James Wilson, for his commitment to making Delaware a bicycle-friendly state.  We know that James works tirelessly and doggedly on behalf of Bike Delaware to raise awareness amongst our elected officials and DelDOT employees regarding improving bicycle safety and bicycle facilities across the state.  He spends many hours in Dover, meeting with legislators and their staffs, as well as DelDOT engineers and managers.
Although many people have contributed, if there's any one person in the entire state who has contributed the most to the decision by the League of American Bicyclists to rank Delaware as the fifth most bikeable state nationally (and first among all states east of the Mississippi River), it is James Wilson.  It is gratifying that his efforts have been recognized by the Delaware House of Representatives.
You can read an announcement of this recognition at Delaware Way here: http://delawareway.blogspot.com/2013/06/well-deserved-tribute-to-bike-delawares.html
James has been recognized in other ways as well.  He was an invited speaker at the Maryland Bike Symposium earlier this year, to discuss some of his success in seeking funding for bicycling in Delaware.  His talk is presented in the first 25 minutes of this video: http://vimeo.com/62087251.
Bike Delaware is thrilled to have such an effective executive director working on our behalf!"
Thank you James,
Drew Knox & The Bike Delaware Board of Directors