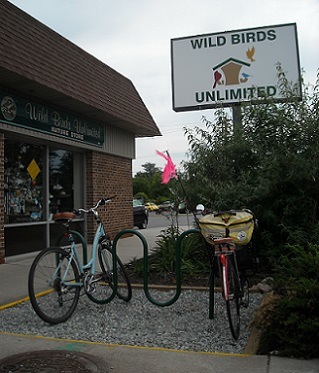 Sometimes It's the Little Things
It's exciting when something BIG is launched that makes bicycling safer, more fun, or more convenient – like the Pomeroy Trail in Newark, or painted bike lanes as part of a Pave & Rehab project.  But sometimes, a little thing can be almost as exciting, like a new bike rack in downtown Hockessin.
I tried a couple of years ago to get several bike racks installed at various businesses in Hockessin.  I made progress, but no racks showed up.  I was running some errands by bike a few weeks ago, and was thrilled to see a new bike rack installed between Wild Birds Unlimited and Harvest Market, at the intersection of Yorklyn Rd. and Lancaster Pike (Rt. 41).
I was shopping at Harvest Market, so thanked the manager there, but was told that Charles Shattuck, owner of Wild Birds Unlimited, was responsible for installing the rack.  I promptly went into that store and thanked Charles.  I learned that part of the motivation was that each of the businesses has an employee who regularly bikes to work.  So this gives the employees as well as customers a place to park a bike while working or shopping.  Charles pointed out that although he did the work, Harvest Market is sharing the cost since the rack benefits both stores.
If you're in the Hockessin area (by bike or car), stop in at Wild Birds Unlimited and at Harvest Market and say "thanks"….and support the stores by shopping there, too!