by Steven Litt
Published in the Cleveland Plain Dealer
In ambition, aesthetics and follow-through, Indianapolis's new $63 million Cultural Trail deserves to be mentioned alongside New York's acclaimed High Line park, Chicago's Millennium Park and other new paragons of urban place-making.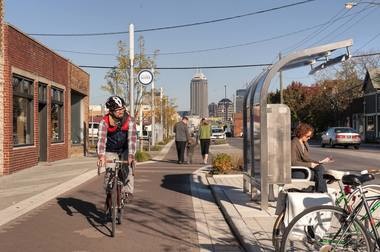 If there were an award for an American city with the most improved public realm, Indianapolis would have to be a very strong contender.
[In May], the city celebrated the completion of its new eight-mile, $63 million Cultural Trail, a beautifully designed and extensively landscaped bike path and pedestrian walkway system.
The trail is a spectacular achievement, and it would have been hard to predict in an automobile-oriented city that virtually has gasoline in its veins and is home to the Indianapolis 500.
Downtown Indy is laced by wide one-way streets intended to speed the flow of traffic. It also has an extensive system of overhead walkways connecting a dozen downtown hotels to its convention center. Until recently, the city has not felt very pedestrian-friendly at street level, despite having some very fine tourist attractions.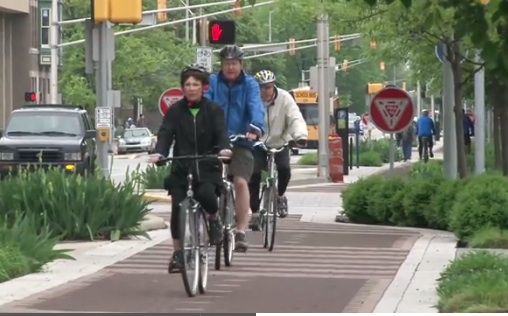 Yet the Cultural Trail shows how a community wedded to the automobile — like many other American cities — can turn miles of downtown streets into beautiful linear parks that would tempt anyone to take a stroll or hop on a bike.
Beyond that, the trail is expected to boost residential development in a city with a downtown population of 12,000 and rising, with 3,000 additional units of housing under construction or soon on the way.
Read rest of article in Cleveland Plain Dealer HERE>>>