I arrived in Boulder to visit my daughter's family at the peak of the record breaking rainfall that has caused flooding of historic proportions across the entire county and beyond.  I had hoped to do some bicycling while in Colorado, enjoying some of the many wonderful bike paths and bikeways.  Instead I've been watching the flood waters recede (and rise again with more rain over the weekend), leaving behind piles of mud, rocks, sticks, and in some cases large chunks of asphalt.
My daughter's house is on a corner in a residential area, where there is normally a steady flow of bicyclists.  There are plenty of pedestrians, many of them exclaiming at the damage visible to the homes and yards in the area.  There are a few joggers as well.  Despite the fact that there have been downright dangerous conditions, there have also been occasional bicyclists throughout the storm and its aftermath.
We watched the evening after the worst of the flooding (which washed several parked cars downhill, including my daughter's car) as two bicyclists approached the still raging torrent of water cascading downhill, across most of the street.  After looking at it a short while, one tried riding across.  He immediate came off the bike, and almost lost his footing and his bike.  He then decided to carry his bike across, but the current and volume were too great, and again, the bike was almost washed downhill.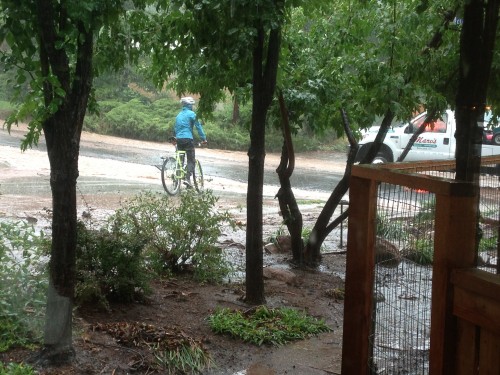 Another bicyclist approached from the opposite direction and stopped to watch a tow truck remove one of the cars that washed from up the hill.
So what has happened to the vast network of bike paths and bike routes as a result of the flooding?  It's too soon to tell but every indication is that there is significant damage.  One summary article suggested "Many bike paths, often located along stream beds, are flooded and will likely show heavy damage when the waters recede. Mountain bike trails and popular road cycling routes, including Four Mile Canyon outside Boulder, Eldorado Springs Drive, South St. Vrain Canyon and the Peak to Peak Highway, have reportedly received significant damage that will likely take months and millions of dollars to repair."
A few other photos shown here help to tell the story.
Photo of the Boulder Bike Path from https://twitter.com
joshuahmel/status/
378268513753767936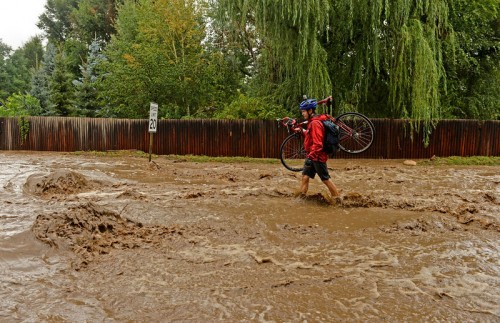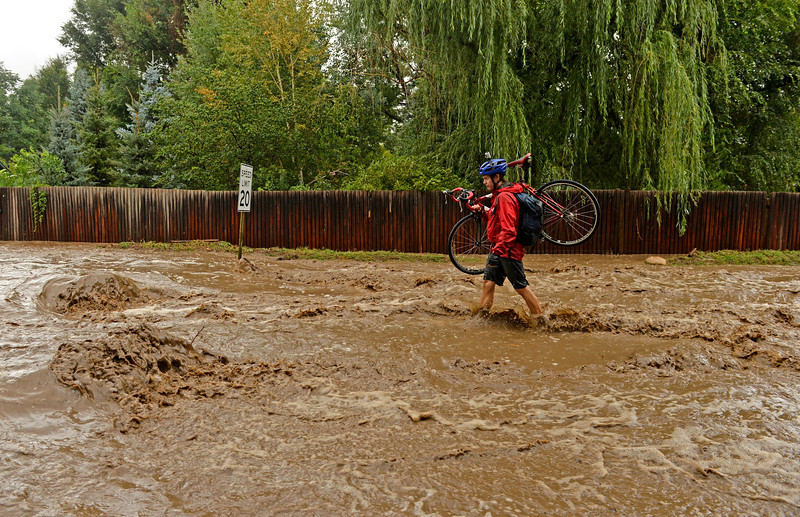 Brady Robinson gives up on trying to ride his bike down Topaz Dr. in north Boulder, September 12, 2013. Massive flash flooding is on going along the Front Range of Colorado. (Photo By RJ Sangosti/The Denver Post, from photos.denverpost.com)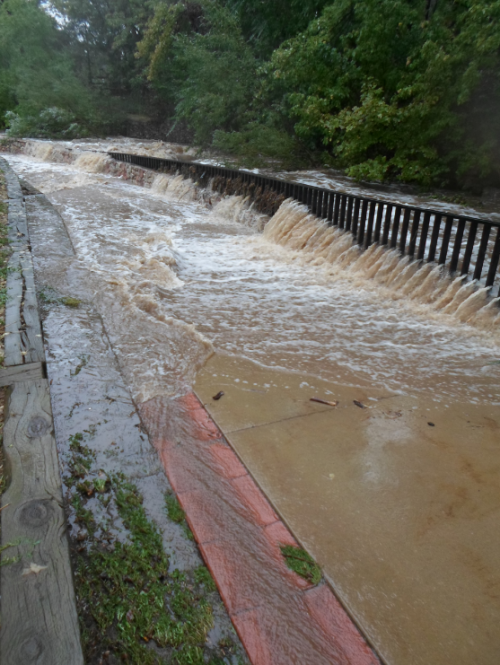 This is the Baseline Road bicycle trail underpass which follows Bear Creek, which is overflowing onto the trail.
Photo: ©big picture agriculture
9/12/2013
(Copied with permission)
My son-in-law rode his bike home from work on the first sunny day since the flood, and said the bike paths were unrideable.  He saw underpasses, of which there are many in Boulder, that were still under 7-8 feet of water.
Considering the popularity of bicycling in and around Boulder, however, I predict that bicyclists will return to the roads very quickly.  When Hurricane Sandy hit New York City and wreaked havoc with motorized transportation, bicycling was found to be a viable alternative to get around.  In Boulder, bicycling may well prove to be an efficient way to navigate around broken pavement in some areas of Boulder County.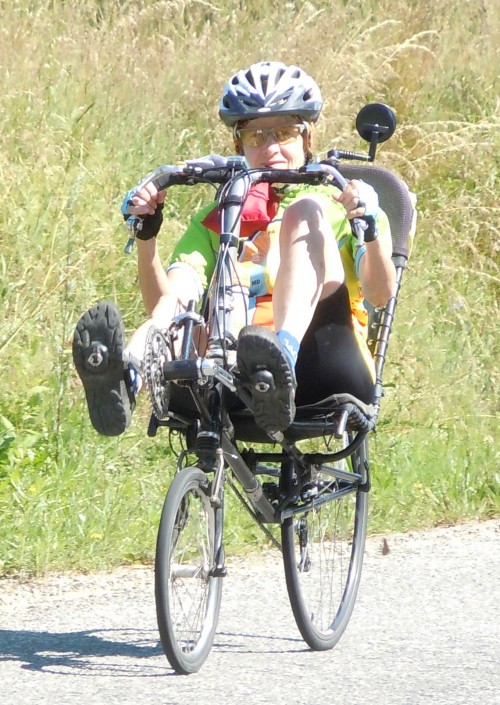 Carol Ireland is a board member and officer of Bike Delaware.