UPDATE (August 29, 2015): Researchers confirm that "Share The Road" Doesn't Work:
In August, Bike Delaware asked DelDOT to permanently discontinue its use of the "Share The Road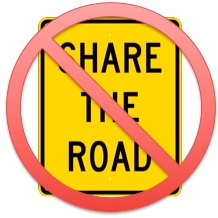 " plaque in Delaware. The article on our ask, which can be read HERE, was viewed on the web more than 15,000 times, "liked" more than 1,800 times and generated many thoughtful comments. (Bike Delaware shared all these comments with DelDOT.)
On Friday, DelDOT's Chief Traffic Engineer released an official memo to DelDOT staff and contractors:
"…effective immediately, DelDOT is discontinuing the use of the STR ["Share The Road"'] plaque. For projects that have not yet reached the final plan submission, the STR plaque should be deleted from the plans. For projects past the the final plan submission or in construction, the STR plaque does not need to be installed. When bicycle warning signs and STR plaques are being replaced for maintenance purposes…the STR plaque should be omitted…"
To understand why this is a smart decision by DelDOT, please read our original letter from August which explained the problems that the well-meaning, but ambiguous and confusing, "Share The Road" message causes.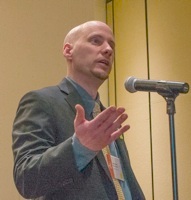 James Wilson is the executive director of Bike Delaware.
RELATED:
• Comments on End "Share The Road"
• WashCycle: Is it time to retire "Share the Road"?