Outdoor Food…Beer from 3rd Wave Brewing…Kayaking on the Broad Creek…Music…Ice cream from Vanderwende Farm Creamery…How can you top all that?
How about an opportunity to buy a refurbished bike, pick up some cheap gear and swap stories with other cyclists?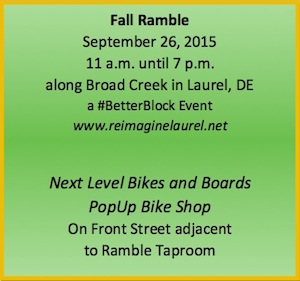 The Laurel Ramble is a one day celebration and event on Saturday, September 26 to highlight a riverfront redevelopment effort along the Broad Creek in downtown Laurel. By creating a place that is more walkable, bikeable, engaging and beautiful, the city of Laurel hopes to revitalize its waterfront along Laurel's Broad Creek  and simultaneously create eco-tourism opportunities such as fishing, kayaking and – of course – cycling. Planned attractions for the Ramble include artists, musical performers (the Slinging Daisies), local food vendors (including Vanderwende Farm Creamery), "pop-up" businesses, outdoor recreation and the "Ramble Tap Room" with beer from 3rd Wave Brewing; all are designed to showcase the potential vitality of Laurel's Broad Creek waterfront.
One "pop-up" (temporary) shop at the Ramble will be Next Level Bikes and Boards. Refurbished bikes—and parts and accessories such as racks, baskets, pedals and seats—will be available for sale at Next Level Bikes and Boards during the Laurel Ramble. Handmade skateboards from the University of Delaware Boardcrafting Club will be sold on commission. Minor bike repair services will also be available.
Funds raised by Next Level Bikes will be used to support the International Student Bicycle Program (ISBP), sponsored by the Lewes-Rehoboth Association of Churches. The ISBP offers no-cost bicycle rentals to students on travel/work visas who take summer jobs in our coastal towns. In exchange for a two-hour education class and safety ride with DelDOT instructors, the students are given access to a practical alternative to walking or relying solely on transit services to get to work. The program is currently transitioning storage facilities and is in need of a long-term source of funding to continue to provide the same, or similar, service to students.
As the old facility was cleared, bikes and accessories were salvaged and repaired or donated to the Newark Bike Project and Urban Bike Project of Wilmington.
Next Level Bikes and Boards popup bike shop will be located adjacent to the Ramble Tap Room, a one-day brewpub collaboration between 3rd Wave Brewing and Abbott's on Broad Creek. "A lot of our community members have suggested that a brewpub might be a nice addition to the downtown area," said Brian Shannon of the Laurel Redevelopment Corporation. "We'll be testing that idea by converting a currently empty commercial space into the Ramble Taphouse that will pair some great beer from 3rd Wave Brewing with terrific food from Abbott's. Patrons can enjoy a cold beverage and grab a bite to eat while listening to some live musical performances."
Anyone who would like to donate or loan items or tools, volunteer to service bikes on site, or just help out during the day with Next Level Bikes should contact Paul Moser at pmoser16@gmail.com.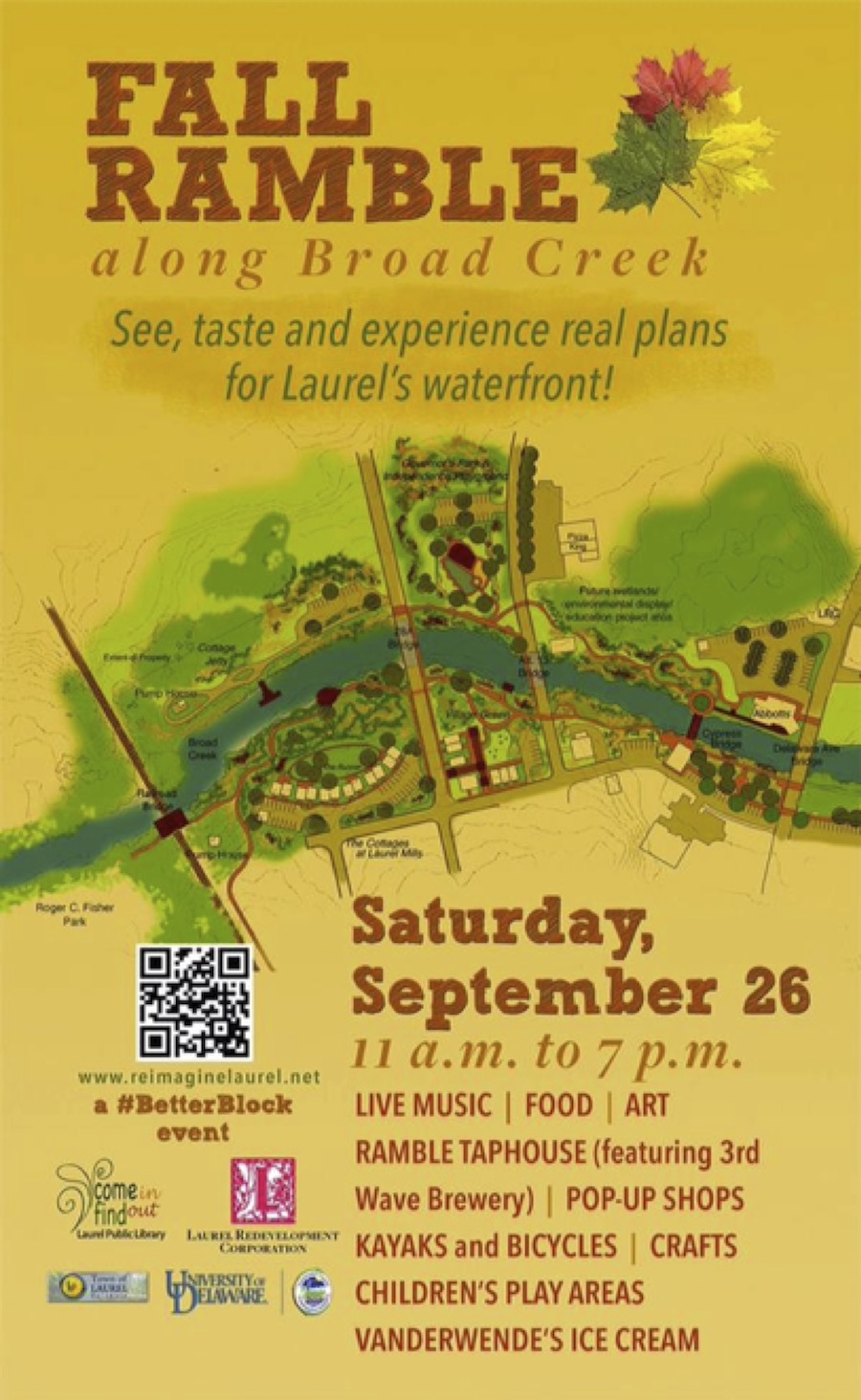 RELATED:
• Fall Ramble along Broad Creek set for Sept. 26 in Laurel (Cape Gazette)
• Creating Better Blocks in Wilmington and Laurel
• Crowd fills Laurel fire hall for Venables tribute