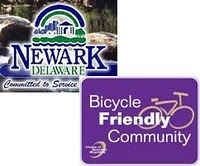 Washington, DC – April 28, 2010 – The League of American Bicyclists is proud to announce 16 new Bicycle Friendly Communities (BFC), five renewing BFCs and 19 Honorable Mentions. As we have seen in the last few cycles, the majority of the new BFCs are in the East and Midwest – three quarters of the awarded communities are east of the Mississippi River. Additionally, two new states now have designated BFCs: Newark, Del. and Simsbury, Conn. "Communities from all areas of the country, climates and populations see bicycling as an integral component of building livable communities. The Bicycle Friendly Community program is recognizing those leading the way", said Andy Clarke, League President. See the full press release in pdf HERE.
Bronze is only the beginning, as Newark looks to achieve Silver (and beyond) in LAB's Bicycle-Friendly Communities awards program. Much work remains, including the completion of a safe on and off-road bicycle transportation network throughout the city. font-size: 100%;">But they can't do it alone. Cyclist input is crucial to the success of this endeavor. The Newark Bicycle Committee has monthly public meetings, held at Wilmapco, 850 Library Ave Suite 100, on the 3rd Thursday of every month.
Email Jeff Riegner for further information, and how you can participate. View the current Newark Bicycle Plan draft in pdf HERE.