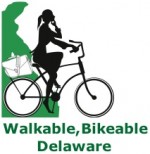 Meeting yesterday, the Sussex County Council discussed its 2012 – 2018 Capital Transportation Program Request to DelDOT. Among the County's identified transportation priorities is the 17 mile Lewes-to-Georgetown bike route, a long discussed and long overdue project.
Last week, the 6 mile

Wilmington-to-New Castle Industrial Track

, in New Castle County, became the first project in the state to benefit from the

state bike route money

voted by the General Assembly in June. The WILMAPCO Council

voted

to amend its Transportation Improvement Program, with $120,000 from state bike route funds to be matched by $480,000 in federal transportation (CMAQ) matching funds. By including Lewes-to-Georgetown in its list of transportation priorities to DelDOT, the Sussex County Council has made certain that Sussex County will be the next beneficiary of the General Assembly's commitment to a

Walkable, Bikeable Delaware

.
Progress on the Industrial Track and the Lewes-to-Georgetown route (plus the

C&D Canal Trail

) already marks 2011 as the most remarkable year for bicycling that Delaware has ever seen. So we're done, right? I mean all we hear about from Washington is how we're broke, American can't afford anything and we should all learn how to speak Chinese. Well, to quote a wise man (and Bike Delaware Board member): "Nuh-uh." We are not done.

Not even close

.