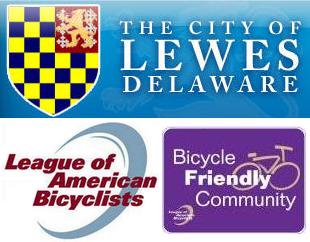 From DelmarvaNOW.com: Lewes celebrates its bike-friendly award!
LEWES — [Last] week, the city [was] not only celebrating National Bike to Work Week, but a recent distinction from the League of American Bicyclists.
The Bronze Award, which recognizes bicycle-friendly communities, was given to Lewes for its efforts to promote cycling.
"The city of Lewes recognizes that simple steps to make bicycling safe and comfortable pay huge dividends in civic, community and economic development," said League president Andy Clarke.
Michael Tyler, chair of the Lewes Bicycle and Pedestrian Advisory Committee, which has been in place since 1999, said the five-person group has worked hard to create a better network for walking and cycling and to gain the recognition.
"More residents and visitors are riding, and we have seen a great influx since the opening of the Junction and Breakwater Trail … and the Lewes Steps Out for Fitness program," he said. Tyler said he's glad the initiative is being promoted.
"A healthy lifestyle includes some kind of physical activity, whether it be walking or cycling," he said. "We've been trying to promote it in the city for a long time."  [Continue reading …]